190 women on why governments must #RatifyILO190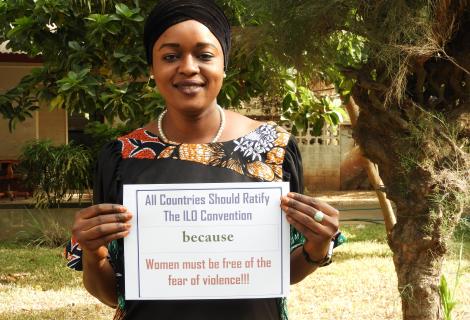 International Labour Organisation (ILO) Convention 190 is a new global treaty to end violence against women at work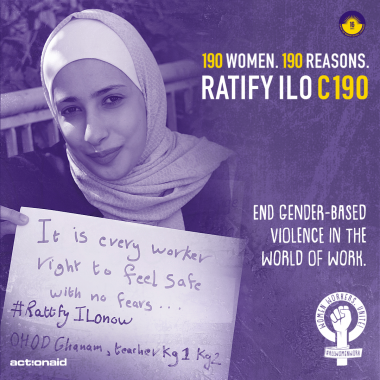 In June, the International Labour Conference adopted a ground-breaking new global treaty, called ILO Convention 190, aimed at ending violence and harassment in the world of work. 
However, there's still a lot of work to do! For the convention to be effective, it must be ratified or brought into force by ILO member states. 
During #16Days of Activism we're calling on governments to #RatifyILO190 and eliminate gender based violence in the world's workplaces.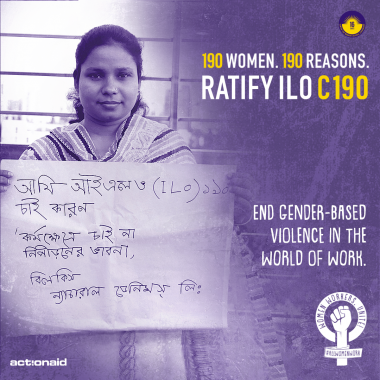 For our 190 Women,190 Reasons to Ratify C190 campaign, we asked 190 women from around the world why it is essential that new international legislation to protect workers from violence and harassment is enshrined into law by their governments. 
Gender-based violence in the world of work is an urgent global concern that disproportionately affects women, young people, LGBTQ+ people and other excluded groups. It results in exploitative and insecure working conditions and the widespread violation of human rights.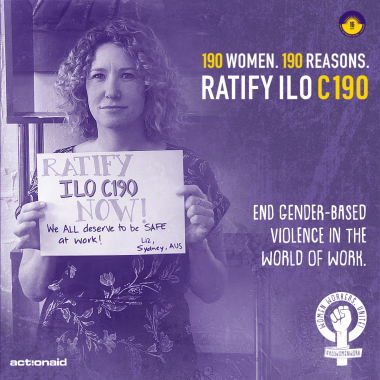 The 16 Days of Activism against Gender-Based Violence is an annual international campaign that kicks off on 25 November, the International Day for the Elimination of Violence against Women, and runs until 10 December, Human Rights Day. 
Join us and the 6,000+ organisations from approximately 187 countries and help us make ending GBV a reality.
Get involved on social media using the hashtags: #16daysCampaign #RatifyILO190 #AllWomenWork
Find out more about #16days and how you can get involved here: 16dayscampaign.org