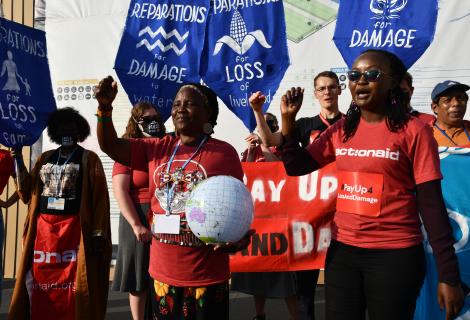 We are delighted to present to you our 2022 Federation Annual Report that highlights part of our collective work triumphs, missed opportunities and lessons for the future.  
At the beginning of 2022, ActionAid was in a particularly critical moment in its evolution and can be proud of its overall account in a difficult year. We achieved, we delivered, and we learnt from our failures. 
To respond to the multiplicity of intersecting global crises, in 2022, ActionAid had to move quickly, shifting the organisation to a more external global focus. We worked in solidarity with others for change - challenging deepening austerity, restrictions on women's and marginalised people's rights, those in conflict and facing food insecurity. All these challenges have been compounded by the all-encompassing impact of the climate crisis which continues to manifest in most of the countries where we operate.
This Annual Report shows a snapshot of the federation's work in 2022, the stories and photos reflect a sample of the many times where ActionAid staff and partners have had impact despite local and international uncertainties and contexts. The report also shows how ActionAid is well positioned to thrive in external global spaces in 2023. We are all inspired by our renewed federation change vision which prioritises feminist principles and decolonising practices, strengthening ActionAid as a rooted campaigning organisation with a strong constituency base to achieve systems change for economic and climate justice. Our key externally facing International Campaign on Climate Justice, to be launched in 2023, sets the organisation on a path to make an important contribution to a crucial global burning platform of the climate crisis.
With our presence across the world, in over 45 countries, and with partners and allies, we look forward to pursuing this vision, together.