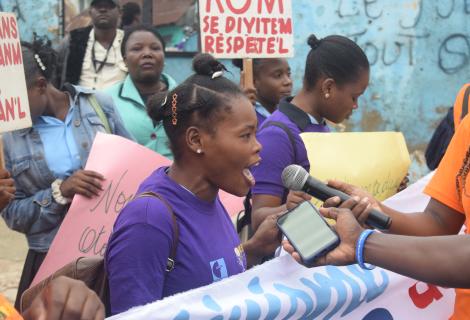 ActionAid International 2021 Annual Report
Downloads
We are delighted to present to you our 2021 Federation Annual Report that highlights part of our collective work triumphs, missed opportunities and lessons for the future.  
It's not been an easy year; in 2021 the world faced connected and ongoing crises of covid and climate as well as humanitarian crisis and conflict. We saw socio-economic and civic and political rights eroded, and women's rights severely restricted globally. ActionAid's work - and the work of human rights movements across the world, was severely compromised. The context has also been personally challenging for many ActionAid staff and partners who - as well as often experiencing their own grief and trauma - have supported others with utmost dedication.  
The following report is just a snapshot of the federation's work in 2021, the stories and photos are just a small sample of the many times where ActionAid staff and partners have had impact despite internal and external instability.  
Whilst there have been achievements, as we look back, we reflect on the lessons we've learnt, both in terms of internal governance and in response to how we as a federation have adapted to survive and thrive in a challenging world. 
With our presence across the world, in 45 countries, and with partners and allies, we will remain purposeful and resolute in the pursuit of this mission. The journey ahead promises to be as challenging as it could be exciting. We will mobilise, we will organise and take the actions needed to contribute to the wider struggle to save the planet and humanity