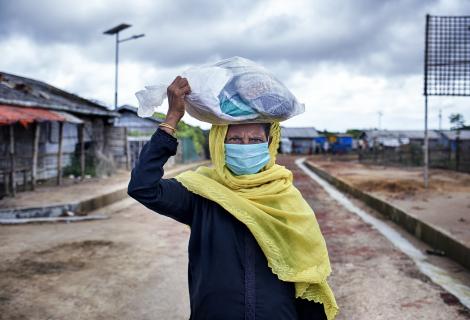 Bargaining for Better: Bringing a Feminist Lens to the Grand Bargain 2.0
Downloads
The Grand Bargain, launched during the World Humanitarian Summit in 2016, as a unique agreement between humanitarian agencies and donors to reform and improve the efficiency and effectiveness of international humanitarian aid.
As 2021 marks the fifth year of the Grand Bargain, Signatories have agreed to endorse a new iteration of the agreement – the Grand Bargain 2.0 – which will examine how to best advance quality financing and localisation.
Despite this commitment, the current iteration of the Grand Bargain still fails to meaningfully shift power, resource, and decision-making power to women's rights organisations (WROs) and women-led organisations (WLOs) as leading actors across all stages of the humanitarian cycle. This is problematic and concerning on many levels: when women and their organisations' contributions are undervalued,  it can have long-lasting and detrimental impacts on both their rights, as well as the humanitarian system's capacity to effectively respond to their needs and those of their communities. 
This policy briefing draws on relevant literature on the Grand Bargain and Gender Equality and the Empowerment of Women and Girls (GEEWG) commitments to date, as well as qualitative survey data with ActionAid's WRO and WLO partners and ActionAid staff in 10 countries. It provides key recommendations for shaping and implementing the Grand Bargain 2.0 so that it is more effective for women and girls. The brief focuses on the importance of investing in local women's leadership and GEEWG considerations within all humanitarian action as well as in the new Grand Bargain operational framework as a means to achieve effective localisation that works for, and empowers, women and girls affected by crisis.
To build meaningful change, the Grand Bargain 2.0 must ensure three things:
WROs and WLOs must meaningfully engage at all levels of the Humanitarian System and in the Grand Bargain.
WROs and WLOs must be able to access sufficient and consistent funding as a key component of localisation.
WROs and WLOs must hold equal and equitable partnerships with international humanitarian actors.