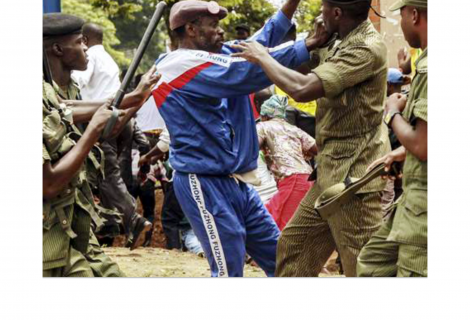 Shrinking space in Zambia
Time for action
Downloads
Zambia has earned a reputation as one of the continent's most stable democracies ever since it returned to multi-party rule almost 30 years ago. However, outside observers and local activists agree that this tradition is now under serious threat, with attacks on freedom of expression and association increasing rapidly.
When President Lungu declared a state of emergency in 2017, the Zambian church warned that the country was "not far from dictatorship", while the following year, political scientists Bratton, Dulani and Nkomo concluded that "the country faces a choice of futures between democratic deepening and authoritarian backsliding."
ActionAid believes that democratic deepening is the right choice for Zambia. Our experience, spanning five decades of work across 45 countries, shows that poverty and exclusion are only overcome when people living in poverty are able to organise, claim their rights and hold their governments to account. Without freedom of expression, association and assembly, this is impossible. What is more, these rights also provide an important avenue for people "to peacefully speak out, contribute their talents, share their ideas and help society work towards solving its problems," as former UN Special Rapporteur Maina Kiai puts it.
The civic and political space that Zambians possess under the constitution is a hard-won product of anti-colonial struggle, and has been key to the progress made since then towards overcoming poverty and exclusion in our country. ActionAid Zambia therefore commissioned this research to inform strategies to defend and expand our precious democratic rights and values. The study is based on focus group discussions with 75 civil society organisations, media houses, youth and women's groups across six provinces. The research team also met with political parties at district, provincial and in some cases also at national levels. Finally, we interviewed over 20 individual human rights defenders, including four from other African countries to provide a regional perspective.