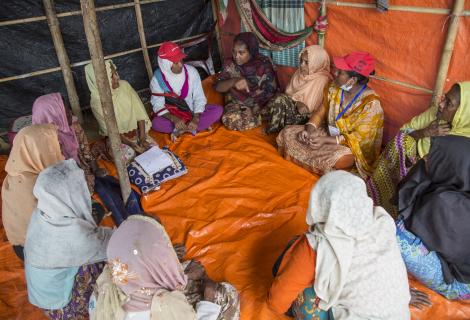 'Making the Local Global' guidance note
A guidance note on supporting local women leaders' participation in global humanitarian spaces
Downloads
Local women leaders must be at the heart of humanitarian work. They are commonly the first responders in any emergency and are most active in prevention and rebuilding after disasters. They should therefore be directly involved in shaping the programmes and policies that affect their lives, families and communities.
This Guidance Note aims to encourage and support local women leaders' participation at global humanitarian and resilience platforms. It explores some of the barriers that local women leaders face when it comes to participating meaningfully in global humanitarian meetings and lists key practice points to promote their participation, along with recommendations for organisers of global events.
The Guidance Note is informed by interviews conducted with local women leaders from Bangladesh, Haiti, Gaza, Kenya, Lebanon, Liberia, Philippines, Syria, and Vanuatu - and also with international humanitarian organisations.