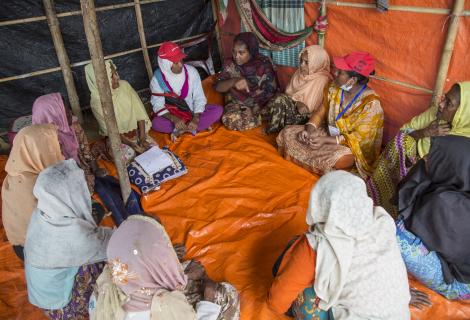 Making the local global
A guidance note on supporting local women leaders' participation in global humanitarian spaces
Downloads
Local women leaders must be at the heart of humanitarian work. They are commonly the first responders in any emergency and are most active in prevention and rebuilding after disasters. They should therefore be directly involved in shaping the programmes and policies that affect their lives, families and communities.
Enabling local women's leadership of humanitarian action also prevents costly mistakes that put women's and girls' directly in harm's way. The humanitarian community can begin to rectify the injustices experienced by women in gender-blind humanitarian actions.
ActionAid has long advocated for women's leadership of humanitarian actions. Women's actions and leadership are often unrecognised by institutions of all kinds. They play minimal roles in coordination mechanisms set up to respond to emergencies, if they are even invited to take part. As one of the women leaders interviewed for this guidance note stated,
"We might be invited to speak at the big meetings. But when it comes to actual decision-making and translating things into action, we're not invited to those spaces at all."
This guidance is aimed at local women's organisations involved in humanitarian action and disaster prevention, or who wish to be involved. It is also aimed at international organisations wishing to support women's meaningful participation.
This guidance is based on experiences that come mainly from the humanitarian sector. But it is also useful whenever local leaders are supported to attend humanitarian and development events abroad.