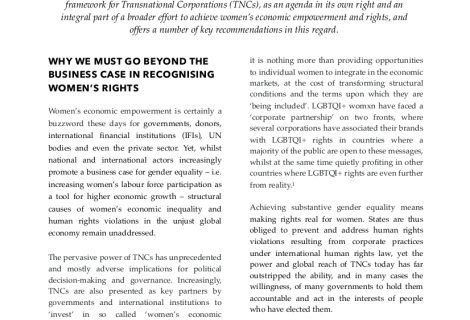 Women's Rights Beyond The Business Case
Ensuring Corporate Accountability
Downloads
This briefing highlights the importance of a binding international accountability framework for Transnational Corporations (TNCs) that protects women's rights, as an integral part of efforts to achieve women's economic empowerment.
National and international organisations are increasingly promoting the business case for gender equality, in that increasing women's participation in the labour force can lead to higher economic growth. However, the structural causes of women's economic inequality and human rights violations within the global economy remain unaddressed. In particular, the pervasive power of TNCs is having an unprecedented and mostly adverse effect on political decision-making and governance. Increasingly, TNCs are presented by governments and international institutions as key partners to invest in women's economic empowerment - but even when this investment takes place, it usually does nothing more than providing opportunities to individual women, at the cost of transforming the structural conditions that resulted in their exclusion. LGBTQI+ women face a 'corporate partnership' on two fronts, with corporations associating their brands with LGBTQI+ rights in countries where a majority of the public are open to these messages, while simultaneously quietly profiting in other countries where LGBTQI+ rights are denied.
Achieving substantive gender equality means realising women's rights. States are obliged under international human rights law to prevent the human rights violations that result from damaging corporate practices. This briefing offers a number of key recommendations to help governments hold TNCs accountable and to act in the interests of their citizens.