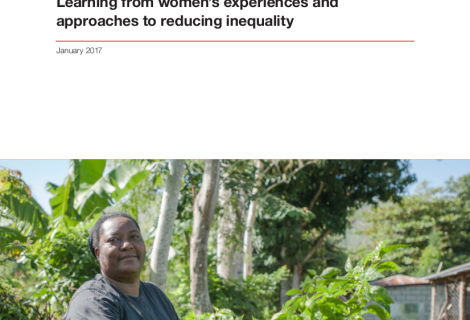 Shifting Power: Learning from women's experiences and approaches to reducing inequality
Downloads
Inequality is widespread and deepening, with the impact falling heavily on poor women who face a range of different intersecting challenges. Solutions are hotly debated by powerful decision makers in and outside government who sit far removed from the lived experience of inequality.
Shifting Power is based on focus group discussions and interviews in communities in seven developing and emerging economy countries where ActionAid is active: Brazil, Haiti, Liberia, Nepal, Nigeria, South Africa and Uganda. Groups of women were asked how they experience inequality and, most importantly, how they are addressing inequality. We found that across the countries, when women take collective action on the many challenges facing them, they feel better equipped to address inequalities within their families and communities. This process is often accelerated for women whose first meetings are around income generating activities, and we have identified that women who are economically autonomous tend to be more involved in organising. We also found that when women's groups collaborate, their collective capacity to bring about change is strengthened. When women's voices and collective action are amplified, they are better able to impact and influence decision makers and those in power. Amongst the challenges, we show how three inspirational women are taking steps to dismantle power imbalances in their communities:
Ma Zoe Taweh, the first woman to be a town chief in Gbarpolu County, Liberia, is inspiring women in other districts to become leaders;
Jacqueline Morette in Haiti, whose organisation AFUP [Association des Femmes Unies de Pouly - the Association of United Women in Pouly] is connecting with others in the region to increase women's power when addressing authorities;
Nirmala Mahatara is from a rural community in Nepal which has been marginalised, and is now working with a network of rural women which has recently been part of a 3000-strong sit-in outside the constitutional assembly to ensure women's legal, social, political and economic rights are central to the constitution.
These women have found that local organising influences not only their lives, but also the lives of those in their communities, on a daily basis. This report sets their experiences in their distinct contexts. It first explores the intersecting inequalities faced by women in each of the communities. It then explores the unique case studies of inspirational women leaders. Next it analyses the challenges and opportunities these women have faced to shift power across the countries studied. Finally, the report outlines what the women seek as alternative policies to combat unequal power dynamics.
Our recommendations show how various actors including local and national governments, donors, non-governmental organisations (NGOs) and other civil society organisations including religious institutions and media, can address systems of oppression perpetrated by different stakeholders (including at times themselves) by supporting these women as they take action to (re-)claim power. While the contexts and solutions vary, two of the most successful approaches, found in disparate settings, are investing in gender responsive public services and supporting women's own peer organising.
> Download the "Shifting Power" report