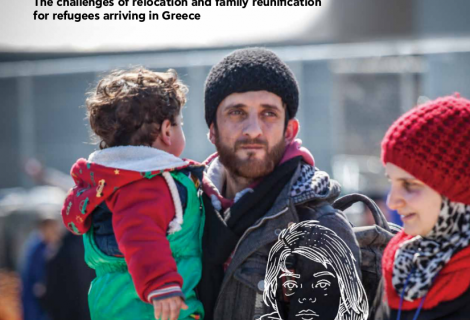 Separated: The challenges of relocation and family reunification for refugees arriving in Greece
Downloads
Around 50,000 people who have fled conflict and hardship now find themselves stranded in Greece. They are living in a legal limbo that is exacerbating the stress and suffering many are already experiencing after leaving their homes and livelihoods under horrendous circumstances.
Legal analysis and qualitative interviews carried out by ActionAid show that the EU and Greece are failing to meet their obligations to protect and promote the human and refugee rights of the people arriving in Greece, in particular their rights to family life and family reunification. ActionAid has also found that the narrow definition of "family" used by the EU means that often parents cannot be reunited with their adult children. Siblings over 18 years of age are not provided with an opportunity to reunite, and family ties across generations are broken as asylum-seekers find themselves in different countries. This causes stress and grief amongst people who are already suffering the loss of their normal life as they have travelled across the world. It also breaks family ties and networks that are essential not only to the asylum-seekers themselves, but also to the societies in which they will eventually integrate.
ActionAid's research has also found that those arriving in Greece are not always informed properly of what their rights to apply for family reunification and relocation are. Once applications are lodged, the process for dealing with them is lengthy and the applicants are often left in the dark as to what their fate will be, adding to their stress and anxiety.
ActionAid recommends that:
The EU and Greece meet their existing obligations to respect family rights and family reunification.
The EU broadens the definition of what constitutes "family" for family reunification purposes.
Asylum-seekers are promptly and correctly informed of their rights and how their applications are progressing, and that the EU and the Greek authorities ensure that the Greek Asylum Offce is better resourced to do this.
> Read the original report in Greek or in Spanish.