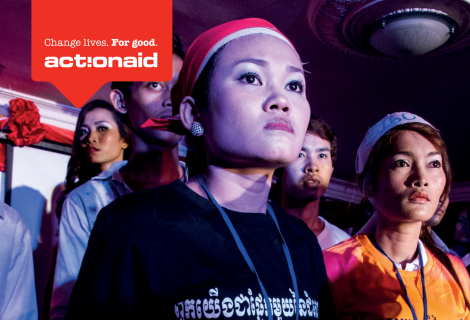 Double jeopardy
Violence against women and economic inequality
Downloads
Every day, women around the world are making an invaluable contribution to the global economy through paid and unpaid labour. Their work is often poorly paid, invisible and precarious due to harassment and the threat of violence.
One in three women globally experience violence in their lifetimes. The double injustice of women's economic inequality and violence against women and girls (VAWG) are a manifestation of the global community's failure thus far to tackle the systemic and structural causes of gender inequality.
ActionAid interviewed women in Uganda, Cambodia, India and Brazil to highlight their experiences of oppression and exploitation through the patriarchal structures and systems of the modern global economy. This report shows the link between violence faced by women and girls and economic exploitation and how it is a vicious cycle. It has emerged as a result of conscious policy choices based on advancing certain economic strategies and may seem daunting to undo, but a system created through choice can be dismantled and replaced.
The issues of VAWG and women's disproportionate responsibility for unpaid care are rising up the international development agenda, taking pride of place in the Sustainable Development Goals and increasing opportunities for debate. This is the latest achievement of work done by women's rights organisations and feminist movements over the past century and builds on the international agreements and treaties won through their campaigning.
There is an urgent, life-saving need for commitments to become action and create a new virtuous cycle in which improvements in women's economic status and lowered exposure to VAWG and its effects bolster their social and political participation. This will allow them to demand accountability from governments and challenge harmful patriarchal norms at the heart of policy-making.