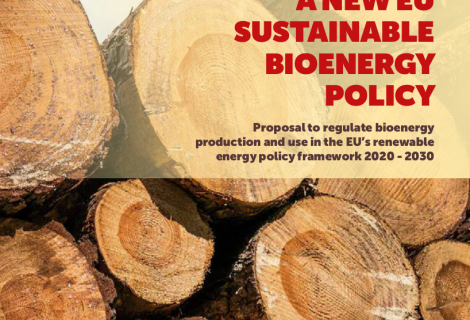 A new EU sustainable bioenergy policy
Downloads
The European Commission has announced that it will propose a new and improved bioenergy sustainability policy for the use of biomass in heating, electricity and transport as part of its Climate and Energy Package for 2030. The proposal is expected to be released before the end of 2016.
While bioenergy will play a vital role in EU's transition to an energy
system based entirely on renewable energy, it will be small relative to the contribution of other renewables and energy e ciency. This is because there are limits to the extent to which bioenergy can be used sustainably. It is therefore important to ensure that these limited sustainable bioenergy resources are preferentially used where no better renewable energy alternatives exist.
To ensure bioenergy is genuinely sustainable comprehensive safeguards need to be introduced which check that bioenergy is truly low carbon, resource e cient and avoids negative consequences on biodiversity, soil, water, land use and people.
While e orts are needed to ensure that all areas of natural resource production and consumption are sustainable and produce less carbon emissions – whether in agriculture, food consumption, forestry, land tenure or transport -this paper however focuses on concerns related to the EU's growing bioenergy use, which is being driven by EU climate and energy policies. If focuses on the practicalities of implementing the following sustainability safeguards in all energy uses of biomass, including electricity, heating and transport1:
A limit to the use of biomass for energy production to levels that can be sustainably supplied;

An e cient and optimal use of biomass resources, in line with the principle of cascading use;

Robust and veri able emission savings on the basis of correct carbon accounting for bioenergy emissions;

A comprehensive, binding set of environmental and social sustainability criteria.
The proposals consider quantity and quality to ensure sustainability. They outline the types of biomass that could be used for energy and indicate the biomass uses that should be prioritized. If taken on board, the proposals will ensure the sustainable production, sourcing and use of biomass for energy.
However, it should be noted that the sustainability criteria proposed in this paper only relate to biomass grown on land (including forested land) and to residues, waste and side-products. Sustainability issues related to biomass from aquaculture and marine areas are not considered as these resources are currently not expected to contribute signi cantly to the 2030 renewable energy targets. If this changes, the Commission should develop and introduce additional safeguards.