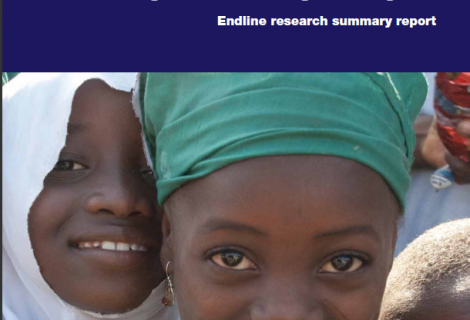 Transforming Education for Girls in Nigeria: Endline Research report
Downloads
This report is the culmination of 5 years' work by the Transforming Education for Girls in Nigeria and Tanzania (TEGINT) project partnership, in particular by Community Action for Popular Participation, ActionAid Nigeria, the Institute of Education and Dr Funmi Para-Mallam of the Nigeria Institute of Policy and Strategic Studies, who led the final research and is the author of the full endline research report (unpublished).
This research summary report was compiled and edited by Louise Wetheridge and Andrew Mamedu, TEGINT Project Managers, in November 2012 from the full report authored by Dr Para-Mallam. 
The TEGINT project began in January 2008 and ended in December 2012.  The project intended to achieve a transformation in the education of girls in Nigeria and Tanzania, enabling them to enrol and succeed in school by addressing key challenges and obstacles that hinder their participation in education and increase their vulnerability to HIV and AIDS. Research was an integral part, contributing to deepening understanding and responsiveness to key issues for girls' education in Tanzania, Nigeria and internationally, advancing the project's implementation and influencing advocacy initiatives.
The themes covered by this research report, including girls' empowerment and attainment, teacher engagement, school management and school levies, remind us of the critical importance of paying attention to perpetual gender gaps and learning from the rich experiences of girls' education projects such as from TEGINT.