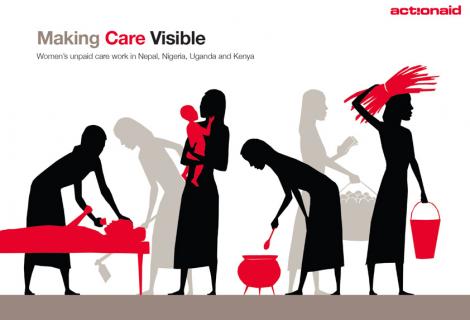 Care is everywhere – from the mother who looks after her children to the wife who cooks her family's meals, from the eldest daughter who helps with the housework to the widow who works in the community kitchen.
Various caring activities that are essential to maintaining societies are primarily done by women and girls throughout the world. Unpaid work carried out in a person's own home is not reflected in national statistics or economic analyses, despite it being central to daily wellbeing. It is perceived to be less valuable than paid work, is ignored and not considered "work" even by the women and men who do it and benefit from it. Because it is invisible in national statistics and less valued, local and national authorities generally fail to design social and economic policies to reduce women's primary responsibility for unpaid care work.
While all women - regardless of class, race, caste and ethnicity - are expected to provide care as part of their roles as mothers, wives, and daughters, women living in poverty are disproportionately affected by such responsibility. Unpaid care is more difficult to do in the context of poverty due to a lack of basic amenities and access to public services. Moreover, there may be no income to buy goods and services for care work, meaning women have to rely on their own labour to provide the required care. Many women living in poverty carry the dual responsibilities for both unpaid care work and earning an income or subsistence farming. Women's responsibility for care leads to the violation of their basic human rights to an education, political participation, decent work and leisure, while contributing to persistent gender inequalities.
We are calling on governments to finance public services to reduce women's unpaid care work, tackle gender inequality and stop women and girls being disproportionately responsible for care.