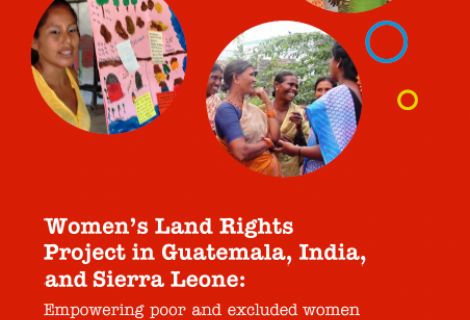 Women's Land Rights Project in Guatemala, India, and Sierra Leone: Empowering poor and excluded women and fighting against poverty and hunger through enhanced access to and control over land - Consolidated Baseline Report
Downloads
The women's land rights project is being implemented by ActionAid (AA) in Guatemala, India and Sierra Leone in recognition of the hard fact that struggles for women's land rights have not yet generated positive results for most women. With the support of the European Commission (EC) between 2010 and 2013, the project is focused on enhancing poor and excluded women's access to and control over land as a strategy for empowerment and fighting hunger.
This consolidated baseline report is a comparative analysis of the baseline data from the national reports produced by Guatemala, India and Sierra Leone. It isolates key findings from the national reports, and forms a single reference document which congregates the project's baseline data relating to:
The policy and legal frameworks on women's land rights in the three countries and beyond;
The grounded situation of women's land rights;
Barriers and opportunities to the promotion of women's land rights; and
How the project is seeking to address these barriers through its various strategies.