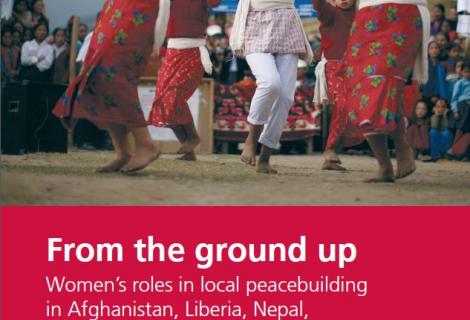 From the ground up - women's role in local peacebuilding in Afghanistan, Liberia, Nepal, Pakistan and Sierra Leone
Downloads
This report from ActionAid, IDS, and Womankind looks at the role of women in local peacebuilding initiatives, finding that women are more likely than men to adopt a broad definition of peace which includes the household level and focuses on the attainment of individual rights and freedoms such as education, healthcare and freedom from violence.
In contrast, men have a greater tendency to associate peace with the absence of formal conflict and the stability of formal structures such as governance and infrastructure.
The research has revealed that women face multiple barriers as they attempt to build peace in their communities including the following:
Restrictive social norms and attitudes that reinforce traditional gender roles, making it difficult for women to participate safely and meaningfully in peacebuilding

Violence against women and girls, fuelled by the long-term impact of conflict and militarisation, impacts on women's freedom to participate in peacebuilding activities. Women face intimidation and threats to their safety when they try to take active roles in their communities. Access to justice also remains a significant challenge for survivors of violence against women and girls.

Poverty and economic inequality also inhibits women's involvement in peacebuilding activities. Women report that they are unable to engage in peacebuilding activities because of the double burden of their domestic roles and income-generation activities as well as a lack of control over household income.

Inequality in access to education for women and resulting low levels of literacy were identified in many communities as barriers to women's active participation in peacebuilding. However, it was also noted that women have many skills in conflict resolution and peacebuilding that do not necessarily require high levels of education.

Women often de-value their role as peacebuilders, and despite their achievements, women do not necessarily recognise the important role they play in building peace. They tend to focus much more on the importance of state institutions and local leaders as the key actors in peacebuilding.

Sustainability of support: organisations working to support women in peacebuilding activities also face barriers which impact on the sustainability of their work, including limited and short-term funding and the challenges posed by a lack of national infrastructure and lack of access to remote communities.
The report makes a number of recommendations around development and implementing coherent and concrete policy commitments, ensuring women's participation in peace processes, providing long-term support, funding and an enabling environment for women's peacebuilding, and tackling violence against women and girls.