Fund our Future for a Just World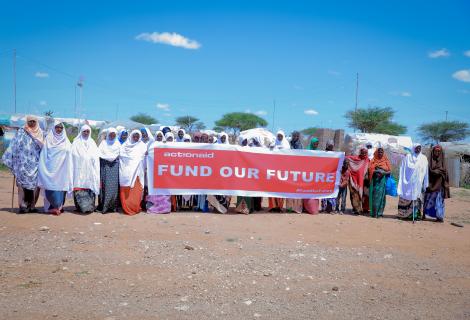 This World Environment Day, ActionAid organised mobilisations around the world to call for a feminist, just transition to a world free of fossil fuels and industrial agriculture. 
Countries across the ActionAid federation mobilised thousands of people in the week marking World Environment Day, 5th June 2023. The activities were an important moment to pay tribute to our environment and demand change to fight the climate crisis.  
ActionAid is demanding action on the climate-harming industries of fossil fuels and industrial agriculture. We want public investments for just and sustainable solutions, like agroecology and renewables.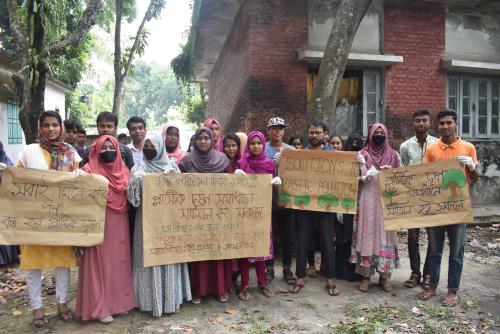 Our activities on World Environment Day 
There was an explosion of activity across the world. Ethiopia held a panel discussion on the climate crisis and mitigation. This panel discussion looked at how youth and communities can play roles in environmental protection and promote climate friendly actions. 
In Palestine, youth movements engaged young people in several activities, such as a clean-up hike, tree planting and educational workshops. 
The Bangladesh team networked among young people and supported various activities to empower children for a sustainable future, including a workshop on plastic pollution effects and solutions, drawing and slogan writing competitions and a performance on the climate crisis. 
ActionAid's Nepalese office, along with Nepal Mahila Ekata Samaj (NMES), organised a weeklong series of events in Kathmandu. ActionAid International's Secretary General, Arthur Larok, was in Nepal for the launch of these mobilisations, showing his activism and embracing our efforts.  
Meanwhile, Nigeria and Zimbabwe held several activities which focused on beating plastic pollution, yet another example of fossil fuels damaging the planet and our communities.  
This is just a snapshot of important activism that took place on World Environment Day. As a diverse federation, we will reach our goals in different ways, engaging with the public to make change, and working towards a feminist and youth lead solution.  
The movement demands justice both nationally and internationally. The impact of climate change has far-reaching effects on the lives of people living in poverty, farmers, women, rural, indigenous, and marginal communities, although they have not played a significant role in contributing to global warming. 
This week we hope the world will rethink the harm humankind is doing to the environment and find collective solutions to the fight against inequality. For a sustainable and just future, we demand a move to agroecology and an 100% shift to renewable energy for all.  
Share our activities widely 
Join us on our fight for climate justice! Use the #FundOurFuture and ask for a just world, with environment and social protection.