Systems change to food security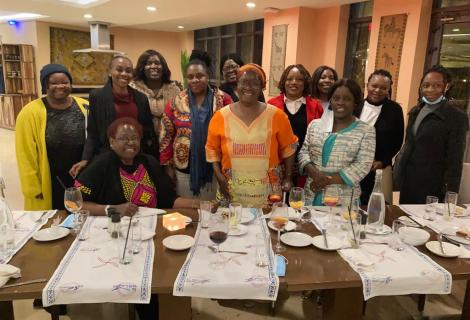 Food is essential to life. Food not only provides the basic sustenance for physical survival and nutrition for healthy human existence; food is also a key element of people's culture and rights.
The African Union's (AU) 4th Mid-Year Coordinating Committee Meeting in Lusaka last week happened at a time when Africa is facing a serious food crisis exacerbated by several factors including the economic and social impact of the Covid-19 global pandemic, the Ukraine war, climate-induced drought, and flooding, to mention a few. AU's theme for 2023, 'Strengthening resilience in nutrition and food security on the Africa continent' in itself communicates a collective resolve to address the current food crisis through long-term solutions.
Some key questions are on my mind:
Why is Africa's food system most impacted when the entire world battled with the Covid-19 pandemic with women bearing the brunt?
Why is the Ukraine crisis, a country that many have heard of for the first time in the recent past and a country that is so many miles away impacting Africa's food system, a continent endowed with the vast tracts of arable land, and favourable weather?
Why are Africa's women not being included in conversations about strengthening nutrition and food security, even though they produce over 80% of Africa's food?
Where are Africa's young people too in this conversation, considering over 60% of Africa's population is under 25?
As I participate in this year's pre-AU summit strategic conversations with the Gender is My Agenda Campaign (GIMAC), I am keen to see how AU takes on board key recommendations informed by communities across Africa, especially women and youth convening in Lusaka. The GIMAC network is where ActionAid (AA) presented on Economic Justice from a feminist's perspective, working with Zambia's young people, women's movement, and Zambia's civil society, convened by AA Zambia to amplify the voice of communities, especially women small holder farmers, on food security.
Two key recommendations presented to the AU that I believe would bring systemic change to food security are: that African Governments and the AU shift public and private finance away from industrial agriculture and fossil fuels to avoid making the climate crisis even worse and liberate funds for communities' resilience-building to future shocks and stresses; and second, that AU and member States develop a clear strategy on agroecology and the use of indigenous seeds. The AU must follow the public spending guidelines and aims of the Malabo Declaration, which calls for governments to work together to improve livelihoods through agriculture; invest in and scale-up support to smallholder farmers, especially women and sustainable agroecological approaches to farming, so farmers can improve soil fertility for crop production, without the use of expensive fossil-fuel chemical fertilisers.
It was great to hear about an intersectional approach in resolving Africa's food crisis at the GIMAC dialogue. Importantly we brought significant entry points for building resilience in nutrition and food security into the conversation. There was agreement that eliminating violence against women and girls, and ending child marriage and mortality are strategic entry points for this transformative agenda. In fact, in one of the sessions, Dr Nyaradzayi – a former ActionAid International Board Chair and AU Goodwill Ambassador for Ending Child Marriage - emphasised the need to address violence against girls by stating that, 'child marriage that mainly happens during periods of food shortage has never been known to end poverty in any community', linking food security to the care agenda and recognising the central role women can play in achieving Africa's resilience in nutrition and food security.
I listened to beautiful stories of how indigenous seeds were shared among communities in the past to ensure there was food for all, and how a mother would give a basket full of a variety of indigenous seeds to her daughter for a gift on her wedding. In the same breath we heard the sad reality of bad examples of our governments passing legislation that criminalizes small holder farmers exchanging indigenous seeds. This legislation is seriously impacting women smallholder farmers practicing agroecology - farming practices that work with nature, such as using local manure to build soil fertility and reduce reliance on chemical fertilisers.
At a youth event, I listened to a young woman who emphasised the need for young people of Africa to arise and challenge governments' lack of investment in agroecology. She asked her fellow youth how it was possible to sit back when even the basic need for food and nutrition had not been met. In short, she was saying 'personal is political' and we must work collectively to challenge governments that are making bad decisions, such as accepting IMF and World Bank loans that are detrimental to the continent's food system, not to mention the austerity measures imposed.
After listening to these conversations one thing was clear, Africa's women and young people know exactly how to end hunger, and how to adopt resilient nutrition and food systems, if only the AU and the member states would listen.
Three things for me are critical: governments must invest in agroecology as a solution to climate change; recognition of the centrality of the care agenda in transforming food systems; and a collective approach in resisting any pressure to impose austerity policies and cuts to public spending, often recommended by the IMF.
Cycles of debt crises in the Global South mean that many governments have to make impossible choices between debt repayments and basic social spending, including spending on food security. The IMF continues to perpetuate dependency on fossil fuels and intensify resource extraction, whilst failing to invest in alternatives, supporting the privatisation of natural resources that could seriously hamper governmental and inter-governmental efforts to respond to the climate crisis and hence a food crisis.
Leaving Lusaka I believe Africa's civil society, women and young people have made their contribution. The ball is now in the AU's court. My only hope is that the AU will adopt these recommendations.