Humanitarian action: Women responding, but outside the system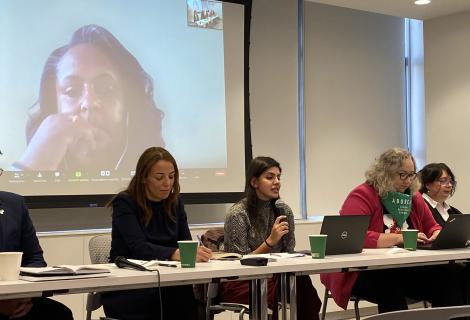 ActionAid attended Women, Peace and Security Week (WPS) in New York from October 17-21st with partners and women's rights organisations for their work supporting women's resilience and leadership in humanitarian conditions. WPS week annually happens on the anniversary of UN Resolution 1325. It brings together member states and civil society organisations to review and debate progress on the implementation of the resolutions and the WPS agenda.
This agenda acknowledges that women, girls, men and boys' experiences of conflict and war differ according to their gender, as well as other intersectional identities, such as race, class, ethnicity, age, religion, relationship status, location, and as a result, their needs and experiences before, during and after conflict also differ. 
The main events of the week highlighted the Security Council Open Debate on WPS and the Women's Leadership in Humanitarian Action, a hybrid panel event. The open debate was led by UN security council member, Gabon. It covered the WPS agenda of women's participation in peacebuilding; supporting women's leadership as a path to peace. In the last 22 years since its adoption, resolution 1325 has always convened the impact of conflict on women and the importance of women's participation in conflict resolution, peacebuilding, and humanitarian emergencies.
Executive Director UN Women says;

"The participation of women from all levels, from local communities to national parliaments has played a pivotal role in changing the way we approach peace and security over the last 20 years."
But throughout the debate, speakers made it clear that the WPS agenda is not where it should be. Women's representation in United Nations-led peace processes decreased in 2021 from the previous year, and there was a 72 per cent shortfall in funding aimed at preventing and responding to gender-based violence in humanitarian emergencies.  
Member states stressed the importance of women's rights organisations and shared current conflicts threatening women's rights. Throughout it all, they shared support and protection for women's rights and their ability to peacebuilding in countries of conflict. This is welcomed, but it is important that member states implement the WPS agenda in full, as well as making supportive statements. 
Throughout the week ActionAid has had a full agenda advocating women's rights organisations' role in peacebuilding, and their work in humanitarian response and action. Notably, their panel event titled "Women's Leadership in Humanitarian Action" held on the 19th featured a lengthy list of delegates in attendance, in-person and online. The event had a full panel of speakers from the Irish government, the UN's Women Peace, and Humanitarian Fund and ActionAid´s partners from Myanmar, Poland, Romania, and ActionAid Ethiopia. The panelists, Jason Robinson, Tinebeb Berhane,  Marta Lempart, Laura Albu, Daw May Sabe Phyu, and Ghita El Khyari, chaired by Niki Ignatiou, amplified women's role in humanitarian emergencies and spoke about their humanitarian work, supporting people in crisis. They shared examples of the negative impact on women in conflict-affected countries, their role in peacebuilding and humanitarian response and the difficulties to get from the international community support, protection and funds for their organisations and movements. Marta Lempart powerfully expressed, "We were supposed to be a generation with no war and that turned out to not be true."  
ActionAid's expert knowledge and research affirm a rise in international conflict, and despite their skills in prevention, protection, and justice, women and youth's role in peace processes is being overlooked. The panelists and ActionAid solemnly agree that women's and youth organisations need more resources to support and actively lead the WPS agenda, as well as a way to compound other risks, like climate change, pandemics, and humanitarian emergencies. The Nexus describes the interaction between humanitarian aid, development, and peacebuilding efforts. ActionAid's upcoming research draws on women's experiences and their organisations working across the Nexus to impact humanitarian emergencies. More and more women's rights organisations have been implementing the Nexus to aid development change and peacebuilding. ActionAid will be launching The 'Leading the Way: The Nexus through a Feminist Lens' report in November 2022. To find out more please click here: 
While WPS week came to an end, ActionAid continues its work responding to humanitarian emergencies across the world.