COP27 must deliver for communities, women and girls on the frontlines of the climate crisis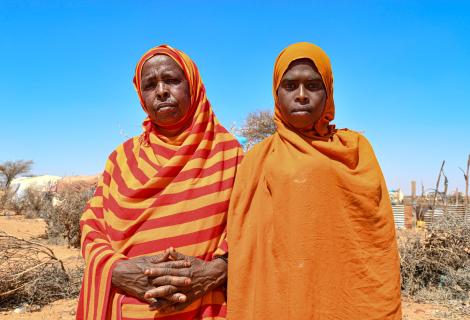 We are halfway through the COP27 climate negotiations, with a huge amount left to be agreed and achieved.
Today, week two kicks-off with Gender Day, shining a much-needed spotlight on the plight that women and girls face in the climate crisis as well as how central they are to the solutions.
Women's leadership in tackling the climate crisis within communities, national governments and international climate governance spaces, such as COP27, is absolutely key. This is because they know the specific challenges that they face the best. In times of drought, for example, it is the women who are frequently left behind to provide for the children and elderly as men leave in search of work, often not to return. Girls are also the first to be taken out of school to help in the home and in the fields when times get hard, or even married-off to decrease the burden on the family. Women understand these pressures and know the policies and support they need to overcome them.
Meanwhile, research has also demonstrated that when women are in positions of leadership, they implement policies that not only work for them but also help to lift up whole communities and society at large. I have met women from Kenya to Cambodia that are pioneering farming techniques in their communities that can withstand the changing climate. I have met women who have organised to advocate for their rights within local government and who have successfully achieved changes in local policy to better support the needs of women and girls.
The voices of these women and girls must be heard, their agency must be acknowledged, and their ideas must be taken forward from the local level to the global conferences. However, here at COP27 we are again seeing a majority of men in senior positions making the crucial decisions about what world we want to live in. This needs to change.
On top of this, the key demand right now for women on the frontlines of climate change is a financing facility on loss and damage. We need the countries that have caused the climate crisis to provide political leadership and come forward with financial support for those facing climate impacts now. So far at COP27 this leadership is lacking, and progress is being stalled. We should no longer be talking about 'if' countries will support funding for loss and damage, we should be seeing coordinated funding being delivered at scale to address climate disasters happening around the world right now – from the devastating floods in Pakistan to the extreme drought in the Horn of Africa.
How funding is coordinated and spent is no small matter - the process will determine the outcomes on the ground and those most impacted. Loss and damage funding needs to be driven by the priorities and needs of those on the frontlines of the climate crisis and to be accessible to communities and local women's groups and networks.
Our research into how women are responding to climate impacts in Kenya, Zambia, Rwanda and Nigeria, which launched today, has demonstrated that loss and damage programming will need to be holistic, contextually relevant, and locally driven. It will need to account for women's disproportionate care burden with social protection policies, incorporate women's protection with the creation of safe spaces and deliver tailored income opportunities that women can access. Communities, and in particular women, are often the first responders in a crisis and how loss and damage funding is spent will need to be decided by them. Climate impacts and gender inequality are complex intersecting problems that will need complex and holistic solutions.
As we take a sharp breath and week two kicks off, we know that COP27 needs to deliver a strong political agreement on loss and damage financing for the communities, women, and girls on the frontlines. We need to turn to the urgent work of addressing the climate impacts that are stealing lives and devastating whole communities across every corner of the planet. We all know that time is up.