Young emergency responders: Harnessing the power of social media to share Covid-19 advice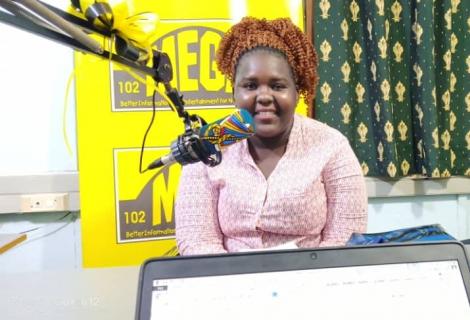 Young people's views and experiences are too often overlooked during humanitarian crises. But their unique perspectives can help to identify innovative ways to support their communities.
To mark the launch of new global guidelines on working with young people in emergencies, by the Inter-Agency Standing Committee and the Compact for Young People in Humanitarian Action, we hear from 26-year-old Nancy Ongom about why it's important to include young people in disaster response planning. Nancy is a member of the Youth Compact Champions programme, a youth leadership initiative supported by ActionAid.
I come from northern Uganda. I grew up living in a community affected by crises, including the war with the Lord's Resistance Army (LRA) and the Ebola epidemic. For the last two years, I've been working on sexual and reproductive health and rights issues. My goal is to end period poverty in my community. I see this as a major crisis and young girls need all the help they can get.
Poverty and unemployment are two of the key challenges facing young people during a disaster. Even before the Covid-19 pandemic, the unemployment rate was already high among young people in my community. A lot of graduates were working in informal jobs, such as boda boda (motorcycle) drivers, saloon workers, hawkers and porters.
When the pandemic struck, a lot of young people lost their livelihoods. Some ended up taking out big loans. It also became very difficult for young people to access health services, and even necessities like sanitary pads. I've heard that some girls are selling sex for money, just to afford these basic services.
Volunteering with youth organisations gave me the skills to respond when the Covid-19 pandemic hit. With the help of the National Youth Engagement Network (NYEN) Uganda, I trained young people on how to use social media to raise awareness about the virus. I also went on a radio talk show, speaking to young people about adapting to remote working.
Good preparation is the best way of confronting the challenges caused by disasters. It's important to include young people early on. This helps to increase their awareness about the risks to their community. It can also prepare young people on what they can do when a disaster happens.
By playing an active role, such as through volunteering, young people can help their communities to prepare for and respond to disasters.
About the author:
Nancy is a member of the Youth Compact Champions programme, supported by ActionAid. This programme supports 20 young leaders from around the world, who have experience leading humanitarian action in their communities. Her inputs and experiences contributed to development of the Compact for Young People in Humanitarian Action.