Land Day: Remembering the ongoing attacks on Palestinian land rights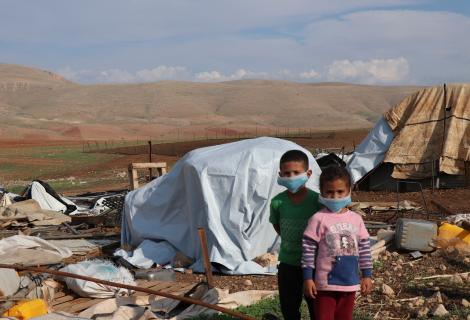 By Ibrahim Ibraigheth, country director of ActionAid Palestine
On 30 March 1976, six Palestinians died and 70 were injured by Israeli gunfire in Nazareth during protests against Israeli government-sanctioned land confiscation. On this day, each year since, we mark Land Day to commemorate the protesters who were lost and remind the world of the continued injustice of historic and ongoing illegal expropriation of Palestinian land. 
Since its illegal occupation of the West Bank, including East Jerusalem, and the Gaza Strip in 1967, Israel began to bring Israeli settlers into these areas, along with multiple acts of land confiscation within the occupied Palestinian territory (oPt).  
Today, it's estimated that more than 600,000 Israelis live in over 230 settlements in flagrant violation of international law.  
Israeli settlement activities hugely damage the prospects of a future, contiguous Palestinian State and lasting peace. They are a clear expression of the Israeli policies that prevent Palestinians from enjoying their rights and freedoms. They affect Palestinians' ability to influence their own future and force people to live in disconnected and economically suppressed enclaves.
Despite repeated condemnation from the international community, the settlements continue to expand with the full political and financial support of the successive Israeli governments.  
Recent reports issued by Israeli organisations of B'Tselem and Kerem Navot revealed that the Israeli government has enabled the establishment of settlements on more than two million dunams (one dunam equals 1,000 square metres) of Palestinian land that have been confiscated.  
As a result, Israeli settler numbers are growing, in 2019 totalling 441,619 people in the West Bank (excluding East Jerusalem)– an increase of 42% since 2010 and of 222% since 2000.    
Confiscating Palestinian land and home demolitions threaten the existence of Palestinians in their lands. According to statistics of the United Nations Office for the Coordination of Humanitarian Affairs (OCHA) during February 2021, Israeli authorities demolished, forced people to demolish, or seized 153 Palestinian-owned structures across the West Bank, including East Jerusalem.  
The report highlighted that Israeli officials' actions throughout February resulted in the displacement of 305 Palestinians, including 172 children, and affected the livelihoods or access to services of 435 others. 
In East Jerusalem, 200 Palestinian families are expected to be evicted from their homes in neighbourhoods of Sheikh Jarrah and Silwan following court decisions in favour of settler organisations.
Israeli authorities usually demolish Palestinian homes in the occupied West Bank including East Jerusalem, claiming that the structures have been built without permits, which are nearly impossible to obtain. They also sometimes order Palestinian owners to demolish their own homes or pay the demolition costs to the municipality if they do not. 
During the past four months, the Palestinian Bedouin community of Humsa Al Bqai'a in an Israeli declared firing zone in the Jordan Valley has been exposed to illegal demolition and forcible displacement for five times. The actions repeatedly demolished 80 structures and displaced some 63 people, including 36 children.  
This Land Day, ActionAid Palestine strongly condemns unlawful Israeli policies of demolitions and settlement and reiterates its call to Israel to immediately adhere to UN Security Council resolution 2334 (2016), which calls on Israel to "immediately and completely cease all settlement activity in oPt, including East Jerusalem" and to "fully respect all of its legal obligations in this regard". The extensive dismantling and confiscation of property and the forcible transfer of the residents are grave breaches of the Fourth Geneva Convention. 
According to their duty to respect and ensure respect for the Fourth Geneva Convention, ActionAid Palestine calls on third states and the international community to hold Israel accountable for its polices against Palestinian civilians and to urgently intervene to stop those policies.