Young people hold the key to a better future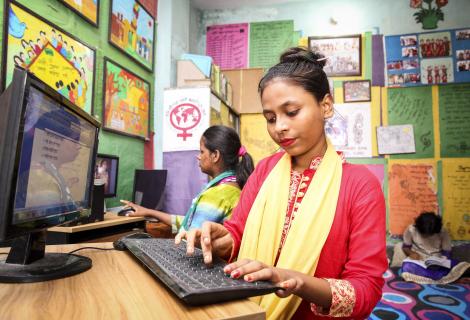 A new generation is hopeful about the future - and ready to engage in shaping it.
By Johanna Diness and Gudrun Gadegaard Pedersen  
To mark its 75th anniversary, the United Nations (UN) invited people from all over the world to join conversations on how to tackle the challenges we face and how to build a better future for all. 
Action Aid Denmark brought together 18 young people (20-35 years old from Kenya, Nigeria, Ethiopia, Zambia, and Bangladesh) for a roundtable discussion shortly before the UN General Assembly in September 2020.   
One thing stood out from the conversation: the young panellists' high hopes for the future. The vast majority thought that they would be better off in 2045 than they are today, despite the fact that they voiced concerns about the Covid-19 crisis' impact on employment and education.
New technologies provide hope and opportunities
The young panel mentioned new technologies as the main reason for their optimism. One participant said, 'I believe the future will be better. The reason for this is cheaper and smarter technology.'  
Many more participants agreed. 'Use of technology is a driver for progress - with increased access to technology, young people are equipped the with skills and knowledge to make the world a better place.' 
This optimism comes from a generation that has seen a rapid change in how technology is used and accessed. In 2017, 2.7 billion people used smartphones. By 2020, this number grew to 3.3 billion. In 2007, 20% of the world's population were internet users. By 2017, it had increased to almost half of the world's population – 49%! 
When looking specifically at countries in the lower middle-income group, internet usage is growing at even more incredible rates. From 2007 to 2017, the share of internet users in lower middle-income countries rose from 5.6% to almost 32%.
Technology can drive creative development, one participant explained: 'I believe that the young people have the keys for a better future. With new technologies we have more opportunities to do things differently than before. For example, we are more aware of the harm caused by gender inequality and can use technology to address these imbalances. Technology makes it possible for more young people to take action and bring fresh ideas on important global issues.'
But huge global inequalities still need to be addressed, particularly around access to technology. By 2017, 85% of people in high-income countries were internet users. But in some low-income countries, this was only 16%. 
Covid-19 lockdowns reveals technological challenges 
Lockdowns highlight the need for accessible technology for all. School closures due to Covid-19 affected 94% of the world's student population – nearly 1.6 billion learners - and up to 99% in low and lower-middle income countries. While distance learning in high income countries covers about 80–85% of students, it reaches less than 50% in low-income countries.  
If we promote a fair world without inequality and where education is available for all, we need investments in technology and tech-skills and a commitment from governments and decision-makers to prioritise these areas.  
Concerns for the future: From top-down to bottom-up 
The young panellists also voiced serious concerns for the next 25 years to come. The fear of not being heard, and not being part of decision-making processes, was raised by several participants, as many lower and middle-income countries are seeing rights stripped back and replaced by more authoritarian measures. Less space and opportunities for participation remains a serious obstacle, according to our panellists.  
But young people are also optimistic, partly because of increased access to technology. It is important to ensure that technology is available and accessible to everyone. But real progress requires putting young people and marginalized groups at the forefront and involving them from the very beginning. 
About the authors 
Gudrun Gadegaard Pedersen is a Youth Data Analyst and part of the Youth Data and Policy team of ActionAid Denmark. She is currently documenting the impact of the Covid-19 crisis on the world's youth.  
Johanna Diness is part of the Youth Data and Policy team of ActionAid Denmark. She is a Youth Data Analyst, investigating the impact of the Covid-19 crisis on the world's youth in the areas of employment and livelihoods.