World Humanitarian Day: Celebrating women on the frontlines of the Covid-19 crisis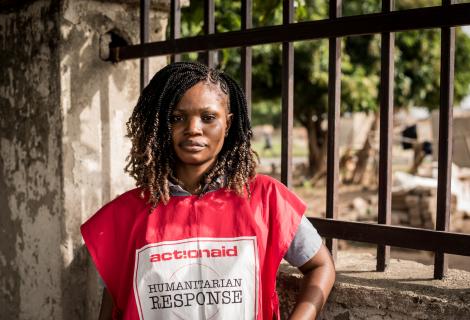 By Julia Sánchez, Secretary General of ActionAid International  
Unprecedented has become the watchword of 2020, as the world grapples with the escalating health and economic crisis of Covid-19, soaring food insecurity and the worst locust infestations in decades.  
I joined ActionAid in March, just as the World Health Organisation (WHO) declared the coronavirus outbreak a pandemic, and lockdowns and travel restrictions began to take hold. This has made for a pretty unique first six months in post.
Introducing urgent measures to protect staff and the communities we work with from a deadly virus, was not how I'd imagined spending my first few weeks in post. My plans to relocate to our Johannesburg HQ and travel to country offices and programmes are on hold. Meanwhile, I'm leading a global federation, during a global health crisis, from my home office in Ottawa, thankful for the technology allowing me to connect to our women-led emergency teams on the frontlines of our response.
World Humanitarian Day (19 August) is about commemorating humanitarian workers killed and injured in the course of their work. In 2019, figures released by Humanitarian Outcomes show that 483 aid workers were killed, kidnapped or wounded, the highest number since the start of its records in 1997.
ActionAid provides humanitarian assistance in some of the toughest countries in the world. Our staff and volunteers in Afghanistan, Democratic Republic of Congo, and Occupied Palestinian Territories are local people, their lives often complicated by these extreme, dangerous and stressful environments. Today my thoughts are with these local staff and volunteer networks, so often overlooked.  
ActionAid's women-led, youth-led, emergency teams are supporting communities to battle Covid-19, while responding to crises including climate disasters, displacement and rising hunger.
During my time in Guatemala and Nepal, designing and managing humanitarian response and reconstruction programmes, I met countless brave and inspiring aid workers, committed to working with communities to overcome complex challenges. I saw first-hand why women's leadership in emergencies and humanitarian crises is crucial. This is ActionAid's unique humanitarian signature, because our experience shows that when you put women in leadership roles, not only will their lives and livelihoods be protected, but the wider community will benefit and the whole response will be improved.
I also lived in India for several years, and there met women like Talat who is a survivor of domestic violence and one of the first female rickshaw drivers of Bhopal, trained by ActionAid India. Now, she's using her skills to support other vulnerable women on the frontline of the Covid-19 crisis. Since the start of the pandemic, the 28-year-old is among 13 women drivers who have been delivering life-saving food support and hygiene supplies to thousands of vulnerable families during the coronavirus lockdown.
ActionAid's women-led response has already reached five million people affected by the pandemic, across 37 countries, providing basic essentials like food, water and soap, as well as funding women's shelters and combating the spread of misinformation about coronavirus.  
The pandemic has unleashed a horrifying global surge in femicide, rape and violence against women and girls. Our research into rising gender-based violence during the pandemic shows that across the world, women and girls are living in fear and are unsafe in their own homes.
Sharmin Akter, 21, is a case management worker for ActionAid Bangladesh, who has seen first-hand the soaring levels of violence against women and girls living in the Rohingya refugee camps at Cox's Bazar. She has worked tirelessly to keep ActionAid's safe space for women open throughout the pandemic, as GBV cases in the camps rise and misinformation about the virus spreads.  
"I feel proud that during this crucial period of time I am able to offer my services and support to the world's one of the most vulnerable population," Sharmin says.
Most recently the horrific Beirut explosion has devastated a country already on the brink of economic collapse and wiped out huge stocks of food, making a hunger crisis increasingly likely. Our teams were already on the ground providing support to meet basic needs, including food and hygiene supplies, as part of our Covid-19 response. And our partners are now building shelters for some of the 300,000 people whose homes have been destroyed by the blast.
The Covid-19 crisis has caused humanitarian needs to soar, yet the aid sector is facing a funding crisis, as nations look inwards and cut back on foreign aid. Responding to the pandemic has increased humanitarian funding needs by over $10 billion to more than $39billion this year – but so far just 26% of the overall funding has been met.
On this World Humanitarian Day, I want to reiterate ActionAid's call for increased funding for local women's rights organisations and networks working at the frontline of crises, including the coronavirus pandemic, and for protection services like women's shelters and legal support to be classified as essential during any emergency.  Heroes on the frontline, like Talat and Sharmin, deserve nothing less.