We must make sure no girl is left behind due to Covid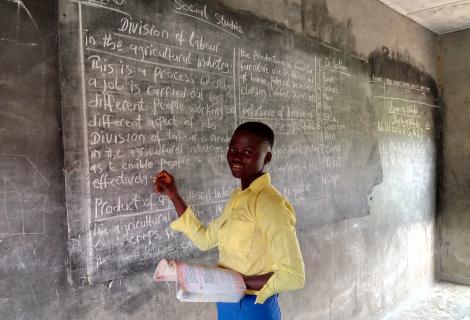 By Julie Juma, Gloria Diamond and Natasha Harris-Harb
Nasriin, 22, is a teacher from Somaliland. Her school closed this year due to the Covid-19 pandemic. She says school closures exacerbated existing problems that girls faced to accessing education.
"When my school reopened at the end of August there were fewer girls compared to before the lockdown," Nasriin says. "Some girls are facing abuse and early marriage. Some parents believe that girls should stay home and help with domestic tasks.
"I hope that society will understand the value of a girl's education and girls will have the opportunity to continue their studies."
In September, ActionAid surveyed 130 teachers from 14 countries, working in communities hardest hit by school closures. Nearly half of the teachers expressed concern about increases in early pregnancy (41%) and early marriage (45%) due to the Covid-19 crisis.
ActionAid's Youth Working Group has been collaborating with the United Nations Girls Education Initiative (UNGEI) to amplify the role of young people in achieving gender equality in education. ActionAid and UNGEI co-hosted 'Real Talk,' an open discussion on tackling the 'shadow pandemic' of increasing sexual and gender-based violence that we're seeing since the start of the pandemic.
Speakers included Maryjacob, a member of ActionAid Nigeria's Activista youth network. She has been working with UNGEI and ActionAid to ensure girls' right to education.
During the Real Talk, Maryjacob told us that, "Increasing rates of violence against women and girls is something that cannot be hidden."
Apina, 29, a teacher from Malawi, has similar concerns.
"The lockdown means there will be a surge in teen pregnancies and marriages. I worry that most of the girls may not return to school," she says.
"Our school is now open but due to the long closure, many girls have not returned. I hope girls who are pregnant can return to school, but I know that many communities don't promote girl's education. This makes it harder for them to return."
The Covid-19 crisis is deepening existing inequalities by preventing more girls, disabled children, and pupils from poorer backgrounds from completing their studies. Teachers say some of the biggest issues preventing girls from returning to school are parents unable to afford the cost (62%), unpaid care work (59%), child labour (51%) and early marriage (52%).
David Archer, head of public services at ActionAid, says: "Education can act as a powerful equalising force. But declining progress on global education goals is not inevitable. Building back better after Covid-19 means actively addressing the barriers facing girls and disabled children, and allocating budget to addressing inequalities in education."
Young women teachers, activists and students are working to address gender equality in education.
Maryjacob tells us that she wants "a world where girls' education advocates and feminist activists no longer have work to do, because girls have access to education. Just because they are humans, and they are alive."
We need policy makers, governments, teachers, and students to work together, and unite across sectors and generations, to ensure that no one is left behind.
About the authors
Julie Juma is the Education Programme Manager at ActionAid International.
Gloria Diamond is the Policy Advocacy & Gender Advisor at the United Nations Girls Education Initiative.
Natasha Harris-Harb is the Youth Leadership Advisor at the United Nations Girls Education Initiative.