"These Senegalese women are helping those most in need, against all odds."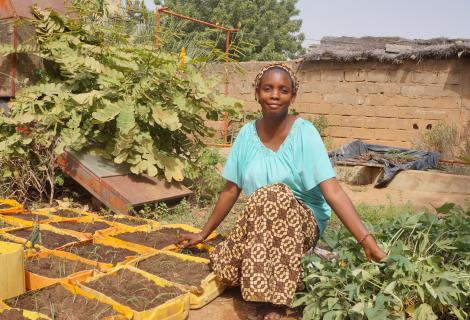 Khardiata Ndoye Pouye is a Women's Rights Officer at ActionAid Senegal. Today, 30th July, marks exactly one month since the Senegalese lockdown has been lifted. Here Khardiata reflects on her experience of the pandemic and the strength of the local women she works with.
The start of lockdown was tough. There was a curfew from 8pm until 6am, and at one point all the markets were closed. As a woman with a family, it wasn't very easy. Like so many others around the world right now, I'm continuing to do my job, the housework and look after my children – you're always juggling. 
Just like every other country, there have been limitations on movement in Senegal and we have not been able to go into the field to support women as we normally would. To get around this, we set up a WhatsApp group with nine female community leaders who I check in with every day and we speak about the situation in their local area. I give them guidance on issues such as how they can raise awareness about coronavirus, and they report back on the main challenges local women are facing. All the leaders have an amazing mindset, they are very strong women.
One of the main issues for many Senegalese women is that they depend on day-to-day work as market traders, farmers and domestic workers and they're currently out of jobs because of lockdown. People are not going to market as they did before, and they do not have money to buy food. Everyone is stressed and there were some small protests earlier this month - before the recent decision on the 30th June for the government to reduce the lockdown limitations.
There has been a glimmer of hope though as the 36 cereal banks we have set up in recent years have been a huge success in providing vital food for those unable to feed their families. The banks store excess rice that farmers have grown and are in very remote areas or where there are high levels of drought. For many women, these rice supplies have been a lifeline throughout the pandemic, and they are also sharing it with others in need.
Most cereal banks are managed by women and each one has its own committee, mostly made up of women and young people. These women plan how the bank is run and in situations like this where someone is in need, they co-ordinate how to distribute cereal fairly within the community.
Another concern is the rise of violence against women and exploitation. A study from the National Agency of Statistics and the Ministry of Women's Affairs shows that typically more than 60% of women in Senegal have experienced some form of gender-based violence. Now it is likely that figure is higher as families are locked down and stuck in their homes, without enough money or food to eat. Despite this, all public services are focused on Covid-19. It feels like there is a silence around gender-based violence and this is not normal.  Support like women's shelters need to be classified as essential right now. 
We are also concerned about the impact of closing schools on girls' education. Families may not prioritise their girl's education once lockdown has lifted, especially if they are short on money. The girls will have to go to work - they will be in kitchens and working in markets to save money for the household. For those who are lucky enough to go back to school, they may not perform as well as before because of their workload from unpaid care work. 
Society believes that boys are for education and girls are for marriage and we must work to change this. We are advising the government to pay attention to this issue, to not lose the gains we have made on girls' education. 
Lockdown measures have now been lifted for a month but the many challenges that women and girls in Senegal are facing because of Covid-19 will persist. That is why it is crucial that local women who understand the issues at play, like the community leaders I work with, are at the centre of response efforts and help bring about long-term change. The pandemic has been crippling but I feel inspired that the women I work with are helping those women and girls most in need, against all odds.