On Palestine Day, Israeli occupation continues to violate the rights and freedoms of people in the oPt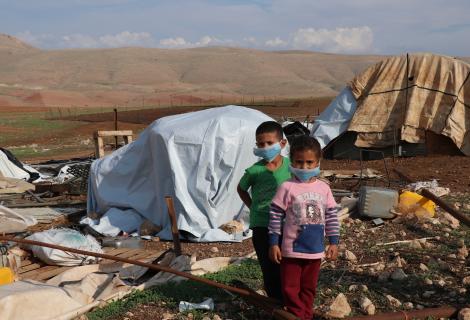 By Ibrahim Ibraigheth, country director of ActionAid Palestine
Today (29 November) is the United Nation's International Day of Solidarity with the Palestinian People.
It comes as Israeli occupation continues violating the human rights of Palestinian people as they battle the spread of the Covid-19 pandemic in the Occupied Palestinian Territories (oPt).  
During 2020, 768 homes and other buildings have been demolished across the West Bank, including East Jerusalem. This is more than in any other year since 2016.
This has left 932 people homeless because they don't have Israeli-issued building permits, which due to discriminatory planning rules Palestinians can almost never obtain.
Communities are being severely affected by Israeli policies of annexation, home demolition and forcible transfer, which are entrenching poverty and hampering the distribution of humanitarian aid.
Earlier this month, Israeli forces demolished much of the Palestinian village of Humsa. It left 73 Palestinians homeless, including 41 children.
ActionAid Palestine's youth-led emergency response programme provided food support and agricultural supplies to families who had lost their homes and livelihoods.
In Gaza, Israel continues to impose its suffocating blockade, which for more than 13 years has had a devastating impact on families and the economy.
Palestinians are routinely being denied their basic rights to freedom of movement and access to essential goods and services, including healthcare and sanitation, fuel, food, employment, and economic development.
With winter setting in and the ongoing Covid-19 crisis, the Palestinian people face many challenges in the coming months.
ActionAid is deeply concerned by the continuing attacks on Palestinians' rights, freedoms and safety.
There can be no justice, no peace and no potential for sustainable development and a future that offers hope for children, young people, and women under Israeli occupation. The EU and all signatories of the UN Geneva Convention must step up diplomatic pressure on Israel to uphold its commitments under international law.