IMF meetings fail to agree support to protect developing countries from COVID19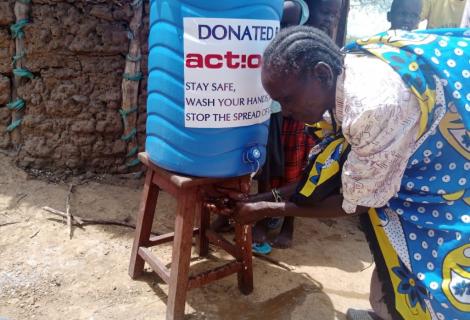 By Soren Ambrose, fiscal justice policy adviser at ActionAid International
The virtual Spring meetings of the International Monetary Fund (IMF) and G20 finance ministers ended last week, having failed to deliver on the immediate cash injection needed to mitigate the looming threat of a health and economic crisis posed by #COVID-19.
Health systems across Africa have been left vastly underfunded and ill-prepared for the pandemic due to years of IMF-imposed austerity and a growing debt crisis. Our research shows Congo Brazzaville is spending five times as much ($1.4bn) on foreign debt repayments as on health ($259m). Kenya, Ghana and the Gambia, are spending more than three times more on external debt repayments than on health. Ghana has one of the highest debt servicing costs in the world, at 59% of GDP, spending $4.1 billion on foreign debt payments compared to $1.3 billion on health. 
Ahead of the IMF meetings, ActionAid released a series of costed measures that could amount to a cash injection of $800 billion for developing countries to invest immediately in universal social protection systems and shoring up ailing health services. This includes a one-time aid boost, debt relief and immediate liquidity support to stop economies from collapsing.
Aid boost
The one-time aid boost would come in part through the world's richest countries committing long promised but undelivered overseas development assistance (ODA) totalling $500 billion, for a COVID-19 emergency fund for low income countries. 
Immediate liquidity
Last week, IMF members states had the opportunity to approve an emergency allocation of Special Drawing Rights (SDRs) to keep developing countries afloat. Our proposal to release 3 trillion SDRs would have put $250 billion at the disposal of African Central banks. SDRs, the IMF's own currency, can be used to boost countries' liquidity at times of crisis and were last used following the 2008 financial crash. 
But despite widespread backing for an SDRs allocation, including from the managing director of the IMF, Kristalina Georgieva, and concerns we're heading towards the worst economic crisis since the Great Depression, ministers, with the US reportedly the main holdout, were unable to reach the consensus needed to agree this virtually no-cost measure to assist the global economy.
#CancelTheDebt
ActionAid is among more than 100 organisations calling for countries' debt to be cancelled to enable them to invest in health and social protection.  
In the run up to last week's meetings, the IMF agreed debt relief for 25 mostly low income countries, cancelling $215 million in payments over the next six months. G20 finance ministers went on to announce that they would freeze bilateral government loan repayments for low-income countries until the end of the year, worth more than $20 billion.
But the debt crisis runs far deeper and will not be successfully addressed by  this light relief package. ActionAid is responding to the COVID-19 crisis in countries with crumbling health services, such as Kenya where health centres in 37 out of 47 counties have no access to personal protective equipment, and Tanzania where there are only two doctors per 100,000 people.
The G20 debt relief will provide an immediate respite for some governments and allow them to increase spending on vital public services, but it just postpones payments and in the long term will end up pushing countries further into debt and poverty.
And disappointingly the IMF board was last week unable to agree on terms for suspending debt payments owed the IMF during the same 7-month period covered by the G20 commitment. This is inexcusable when the IMF holds huge gold stocks worth upwards of $130 billion.
Debt strike!
The key takeaway from last week's meetings is that international processes are moving too slowly and are not going far enough to tackle the scale of the emergency.
Given what's at stake and the scale of the looming health, social and economic crisis we are facing, finance ministers in developing countries should initiate a debt strike and announce that they will not be bound by IMF conditions that obstruct government spending, to protect the rights, lives and livelihoods of their citizens.
By working collectively and immediately suspending payments, finance ministers would gain access to money already in their treasuries – freeing up $50.4 billion for low income countries alone – to invest in the healthcare, other essential public services and universal social protections needed to respond to the short and long term impacts of COVID-19.  
To make those crucial investments countries will have to push back against the policy advice and loan conditions from the IMF, which have held down public spending in recent years. ActionAid's research shows that in consultation with the IMF, 78% of countries are expected to freeze or reduce public sector wage bills. To recruit more doctors, nurses, teachers and care workers, developing country governments will have to resist the cult of austerity.