Having a job does not mean that your livelihood is secure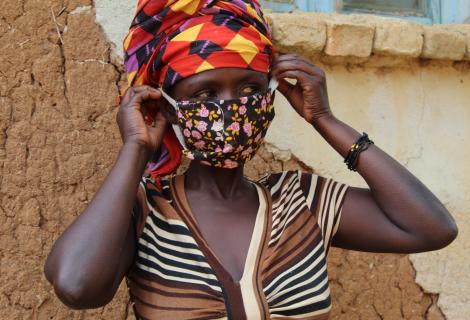 Inequality in work between men and women is a challenge that must be addressed.
By Wanjiru Mburu and Johanna Diness
Globally, women are in the lowest-paid jobs, earning 24 percent less than men. At current rates of progress, it will take 170 years to close this gap. One of the main reasons for this is the lack of decent, secure jobs and the amount of women forced to work in the informal economy.
Women are less likely to have employment contracts, legal rights or social protection, and are often not paid enough to escape poverty. On average women spend over four hours doing unpaid care work each day, while for men this is less than one and a half hours. These extra working hours limit the time that women have to find decent work, claim their rights or pursue their interests.
The pandemic has hit young people, especially women, the most
Globally, nearly 77 percent of working young people are in informal jobs. Informal economy workers are particularly vulnerable to lockdown measures enacted by governments to stop the spread of Covid-19. Their earnings in the first month of the crisis declined by 60 percent globally. The inability to travel to find work has also led to a significant loss of earnings. Often, no social protection is available to help people who are out of work.
As many businesses close and people lose their jobs, they cannot afford to pay for informal services such as housemaids. This means that people working in these roles also lose their livelihoods. With more people now looking for work, those with the least are most at risk. The situation is spiralling out of control, and has to stop.
Young people in lower-income countries are the most exposed to less working hours and falling income. In the first three months of the pandemic, working hours among employed young people fell by a quarter. Two out of every five young people reported a reduction in their income. Young women are experiencing greater losses compared to young men.
Real change is needed
Work should be a route out of poverty. But this is only true if job quality and compensation are strong enough. The relationship between employment and poverty depends on the amount of decent work that is available. With the majority of women in the informal sector, there is an urgent need to focus on supporting working women living in poverty.
One way to support women is to reduce the burden of unpaid care work by scaling up investment in public services like education and healthcare. But countries are struggling to invest in public services due to the economic crisis that the pandemic has caused.
To ensure that there is enough funding available to pay for public services, progressive tax reform, urgent debt relief and investment in healthcare and education are required.
About the authors
Wanjiru Mburu is an information technology specialist from Isiolo county, Kenya. She volunteers and mentors youth in the use of technology and is a members of several technology networks in Africa.
Johanna Diness is part of the Youth Data and Policy team of ActionAid Denmark. She is a Youth Data Analyst, investigating the impact of the Covid-19 crisis on the world's youth in the areas of employment and livelihoods.