Funding girls' education in emergencies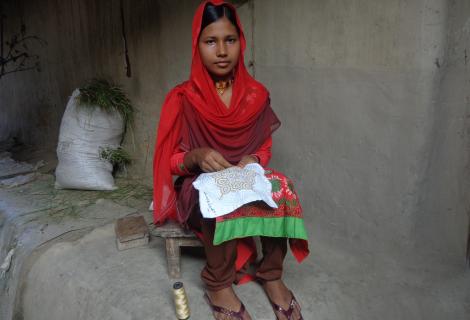 Covid-19 has deepened the gender divide in education and the worst impacts will be felt in the global south.
By Mohammad Hanif and Gudrun Gadegaard Pedersen 
At the peak of the pandemic, up to 90% of the world's students were at home because of school closures. At the start of November, almost a third of the world's students – 572 million – still haven't returned to school.
Most of the current school closures are in developing countries. Schools in richer countries are mostly open. Students in developing countries have lost nearly four months of education since the start of the pandemic. In richer countries, it's only six weeks.
School closures will eventually lead to millions of drop-outs. UNESCO estimates that about 24 million learners risk not returning to school at all. Almost half of them live in South and West Asia (5.9 million) and sub-Saharan Africa (5.3 million).
Girls and young women at risk
Education can be a path to a more equal society. It is especially important for girls and students from poorer backgrounds. Teachers fear that the poorest and most marginalised children will be hardest hit by school closures.
We surveyed 130 teachers from 14 countries across Asia, Africa and Latin America, who work in communities hard hit by the pandemic. Most say that they expect to see a higher drop-out rate for girls (59%) and poorer children (62%).
Nearly half of the teachers we heard from worry about increases in early pregnancy and early marriage due to the Covid-19 crisis. And with public services suspended, girls and women are being forced to take on the extra burden of unpaid care work at home.
Consequences in Bangladesh
Early marriage was already a challenge for young women in Bangladesh. But now, girls are getting married because their families can't afford to send them to school. When a family is having a hard time, the first thing that comes to mind is that the girls should get married.
Young women in high schools are especially at risk. Under lockdown, all the schools in Bangladesh shut their doors. After they're married, they won't be able to finish high school or continue their education.
How can we ensure quality education for all under Covid-19?
High quality education should be accessible to all children, and and learning materials must be free, to ensure the poorest families keep girls and young women in school.
In places such as rural Bangladesh, where digital learning options are less accessible, low-tech options should be used, such as sending reading and writing materials to students' homes and using radio broadcasts to reach the poorest and most marginalised. Safe and flexible learning approaches can also make it easier for pregnant girls and young mothers to return to school.
But this won't be possible without funding. Rich countries must suspend debt repayment obligations for poorer countries through 2021, and governments in the developing world must prioritise funding for education in their emergency response plans.
About the authors 
Mohammad Hanif is from Bangladesh and graduated in fine arts and educational leadership. Hanif is working on the A4I project (Action for Impact) with ActionAid Bangladesh, securing access to quality youth and gender-responsive public services. He's also worked as an Activista volunteer, and currently supports two local Activista partners in Dhaka and Bagerhat. 
Gudrun Gadegaard Pedersen is a Youth Data Analyst and part of the Youth Data and Policy team of ActionAid Denmark. She is currently documenting the impact of the Covid-19 crisis on the world's youth.