Why empowering women farmers and agroecology are the answers to rising hunger and the climate crisis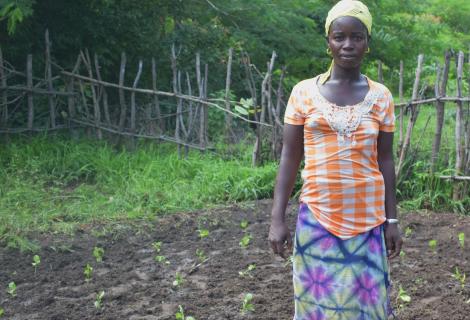 Ruchi Tripathi, ActionAid's head of resilient livelihoods and climate justice, looks at the need to urgently transform our food systems  
After decades of decline, hunger and malnutrition are rising for the third consecutive year. It is an emergency and a scandal when 820 million people go to bed hungry every night in 2019.  
As the 46th session of the Committee on World Food Security (CSF) takes place in Rome this week, the role of this multilateral food governance space, where governments come together with civil society organisations, including food producers and those most impacted by food insecurity, is crucial. 
Debate about how our food systems can be adapted to address rising hunger and the climate crisis is vital. 
Too often, agribusiness persuades governments that more industrial agriculture, more privatisation, more expensive technology and chemical inputs are the solution. But we know that hunger, made worse through the climate crisis, cannot be addressed without challenging this unsustainable 'business as usual' approach. 
The solutions to the food and climate crises are based in nature, agroecological farming approaches, traditional knowledge and expertise which lies with indigenous peoples, rural women, smallholder farmers, farm workers and other food producers. 
An increasing body of evidence supports this, including the recent Intergovernmental Panel on Climate Change report on land, finds that an urgent move away from industrial agriculture and intensive farming practices is essential to avert catastrophic climate change and the growing food crisis. 
This week, member states and CFS members have given their go ahead for negotiations on policy recommendations on agroecology, building on from a new report by the High Level Panel of Experts (HLPE) on Food Security and Nutrition, about agroecological and other innovative approaches that enhance food security and nutrition.  
We are looking forward to progressive policy recommendations at CFS next year on agroecology that member states, civil society, producer organisations and other stakeholders can use to build their programmes and polices around – to fight hunger and ensure the right to food.
After the world food crisis drove reform of the CFS in 2009,  the committee went on to develop guidelines on land tenure, which is the first ever international agreement on land rights. 
A decade on, this progressive UN space, where civil society can speak as an equal with member states, is needed more than ever to demonstrate its leadership in supporting governments, food producers and civil society organisations in their fight against hunger. This includes pushing for a transformation of the global food and agriculture system, which needs to happen in large parts through the development of progressive policy guidance on 'agroecology'. 
As we celebrate International Day of Rural Women and World Food Day this week, we must all 'stand tall as palm trees' as asked by our sisters from the Babassu Coconut Breakers Movement from Brazil, who are fighting a daily battle to protect their land and livelihoods from big agribusiness and deforestation. Women food producers, and women environmental defenders are at the forefront of this battle for the right to food and to protect our planet.
As the foremost inclusive food governance body, the CFS must also 'stand tall', to be the wind beneath the wings of women food producers and environmental defenders.