As Cyclone Fani hits India, we owe it to the poorest to be ready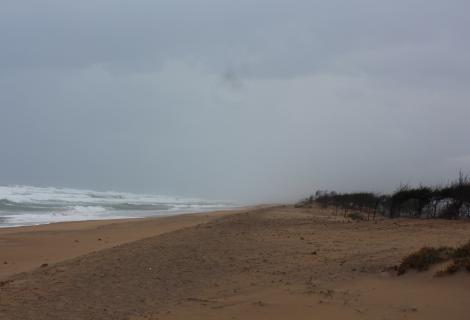 I'm writing this from Odisha, on India's east coast, as we are hit a cyclone for the umpteenth time. Just 24 hours in to Cyclone Fani, one vital lesson is clear. In the era of frequent climate disasters we're living in, we need to step up and help the most vulnerable people to be prepared.
Yesterday I visited Tandahar, a village that sits just 1km from the sea. ActionAid – the organization I work for – has long been supporting people here who are most likely to be affected by disasters, particularly women and girls.
Some of the people I've been speaking to here have been displaced at least four times before, during previous cyclones. They're well aware of the risks of the new, extreme weather events we're seeing. For example, many here understood in advance that the village's cyclone shelter in the local village might not be enough to withstand the onslaught of Cylone Fani; so some 500 men, women and children moved inland, and are now sheltering in schools, some 10km away from the coast.
The Tandahar community's foresight this week has doubtless saved lives. It's a testament to the work that's been done in India to prepare communities like this one for climate disasters, applying the lessons of the recent past. But when I visited schools sheltering people yesterday, and saw more people arriving, it was clear to me that much more needs to be done if we're to withstand Fani, and future disasters on this scale.
People here took very sensible action in the face of certain disaster, and got to shelters mercifully quickly; but what I observed was that, once they got to immediate safety, there was no system in place to keep them safe and well.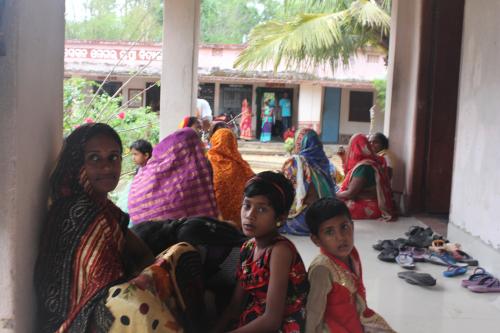 One school, now housing hundreds of people, only has two toilets – woefully inadequate to serve everyone here over the next few days or weeks. At another school shelter yesterday, I saw little attempt to give priority to the most vulnerable people; pregnant women, for example, and children, and older people. The women and children I spoke to said that, even though they'd been there for hours, they'd had no food. Some women didn't have somewhere to go where they could safely and privately go to the toilet; even though we know that in an emergency, the risk of violence against women and girls – including sexual attacks – goes up. There was also no one to look after the many children, as their parents were desperately busy looking for food, and other essentials. The children had no safe space to play, read and just be kids. We know how traumatic these disasters can be for young people, especially when they are displaced for a long time. Failing to support children early risks setting them back for years to come. Creating safe spaces for kids, and women, is so vital from the outset of any disaster.
The women I met here have seen this before, in previous disasters. They are frustrated, and scared. Many had left everything in the escape from home – and they're now terrified that they've lost their houses, belongings and livelihoods. They told me they want our government to abandon short-term measures, and rehabilitate them permanently in a truly safe place.
In the panic of a cyclone or flood, human mistakes happen, and lives are often lost needlessly. It's a huge achievement that communities like Tandahar, who are most affected by climate change, are now well aware and able to get themselves away from immediate danger disasters strike. But it's now vital that governments understand who is most likely to be worst affected by disasters – most often, women and girls, and other vulnerable people – and do more to help them weather the storm, from the outset to the aftermath.
In our corner of the world, it's a sad truth that climate-related disasters on the scale of Fani are going to become more frequent. We owe it to the poorest and most vulnerable people to be ready. Only by doing this can we avoid needless, drawn out recoveries – and lost lives.