ActionAid demands climate justice at Bangkok negotiations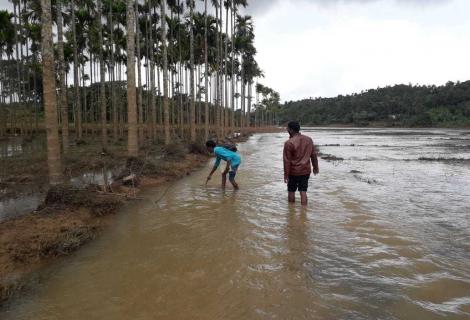 From California to Kerala, this summer has seen deadly climate events sweep through developed and developing countries alike, leaving a devastating trail of destruction in their wake.
The soaring temperatures in Europe, droughts, wildfire and flooding of the past few months across the globe should act as a wakeup call to world leaders about the urgent need for action on climate change. Because time is running out to prevent global warming on a catastrophic scale.
Next week, I'm part of an ActionAid delegation heading to Bangkok for the UN climate change conference (UNFCCC) to ramp up the pressure and push for real action.
The event is an opportunity for governments to agree some of the details for how to implement the 2015 Paris Agreement, which saw governments agree the goal of limiting warming to 1.5°C.
As ActionAid's global policy lead on climate change, I'm heading up our efforts in negotiations at the conference. We're bringing five demands to the table that will pave the way for progress on climate justice: 
The 'rulebook' for how to implement the Paris Agreement must guarantee sufficient, real and predictable climate finance for developing countries;
Protection must be guaranteed for communities facing loss and damage due to runaway climate change, and those living with the impacts of climate-induced displacement and forced migration;
The rulebook must safeguard food security, land rights, human rights and advance the pursuit of gender equality;
Urgent action to cut emissions is needed if the Paris Agreement's goal of limiting warming to 1.5°C is to be achieved.
All countries must do their fair share of climate action. Developed countries must take the lead, recognising they have contributed the majority of harmful emissions and have greater capacity to respond.
The climate crisis is already impacting many of the communities supported by ActionAid around the world, disproportionately affecting women and girls, and the poorest and most vulnerable. We have witnessed the devastating effects of climate change first hand and will continue to work with partners to push governments to achieve climate justice.
Join us in demanding climate justice at Bangkok: Follow @ActionAid and subscribe to our list for updates from our experts at the conference.
Donate to ActionAid's emergency fund for survivors of the devastating flooding in Kerala, via the following offices:
ABOUT THE AUTHOR
Harjeet Singh
supports countries across the world on policy advocacy related to climate change.