A third of people affected by Rana Plaza collapse in Bangladesh still 'traumatised' and struggling with physical and mental health a decade on, new research by ActionAid shows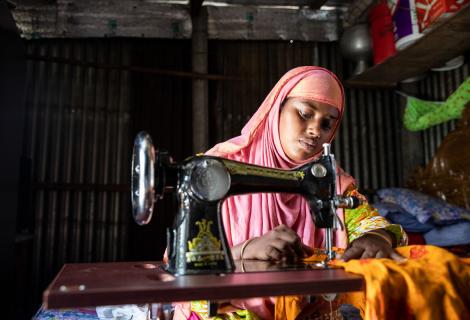 A decade on from the collapse of the Rana Plaza building in Bangladesh which killed more than 1,100 people and injured around 2,500, more than half of survivors are unemployed as they struggle with physical pain and mental trauma. 
A further 200 current garment workers were interviewed about the safety of their workplaces with around 60 percent highlighting several risks present in their factory – indicating more needs to be done to protect workers. 
ActionAid is urging governments worldwide to ratify the International Labour Organisation (ILO) Convention 121 to ensure the rights of injured workers. The organisations is working to support wider efforts to agree a binding treaty at United Nations level to ensure corporate accountability for human rights. 
Dhaka, Bangladesh: New research by humanitarian organisation ActionAid has revealed the continuing challenges being endured by survivors of the collapsed Rana Plaza building in Dhaka on the 24 April 2013. 
The study involving 200 survivors and families of those who died in the tragedy found that more than half (54.5 percent) of survivors are currently unemployed, with physical health being the key reason cited for why they aren't in work. Just over a third (36.3 percent) of survivors have returned to work in garment factories. These findings suggest that physical and mental health concerns continue to be a significant barrier to employment for many survivors. 
More than one-third of the respondents (36.8 percent) said they struggle with back pain, while a quarter (24.6 percent) said they suffered from headaches. Other health problems include breathing problems, hand and leg injuries, inability to stand and walk properly, vision and kidney problems. Out of the 29 percent who said they were still traumatised from the event, more than half said they lived in fear because of their experience of building collapse.  
The report indicates the severity of physical health issues and psychological trauma many survivors faced following this industrial incident. The response must ensure a feminist lens, and compensation to survivors ought to be inclusive, void of loopholes that fail to acknowledge long-suffering and the mental health of survivors. 
Mousumi was working on the sixth floor on the day of the collapse and was badly injured after being trapped under the rubble. She said:
"The horrible memories of those three hours under the rubble still haunt me. I feel the same fear the moment I enter or stand under a building. I constantly wonder if I will ever again have the courage to go to a building for work.  

"ActionAid Bangladesh's 'Workers Cafe' has helped us in various ways including providing training, giving counseling as well as assisting with financial support. Recently I got a sewing machine from there and I am hoping to start a small business using it. These types of support gave us the courage to stand up again and be aware of workplace safety and security." 
The research also looked at the state of safety in garment factories in Bangladesh today. Surveying 200 current garment workers, 84.6 percent of which were women, the findings showed: 
93 percent of workers expressed concern about their health status and their ability to work in the long run. 
Around 60 percent of the respondents highlighted several risks present in their factory, including machinery problems, the absence of fire safety measures, inadequate ventilation and lighting, as well as a lack of health safety measures.  
Around 19.9 percent of the respondents reported that their factories lack firefighting equipment, while 23.4 percent stated that emergency fire exits are not available. 
These findings indicate that while significant strides have been made in occupational safety and health in Bangladesh's garment industry following the Rana Plaza tragedy, there is still work to be done to ensure the government implements policies and regulations which protects and prioritises workers.  
Farah Kabir, Country Director at ActionAid Bangladesh, said:

"Many of the survivors from the Rana Plaza collapse are still struggling mentally and physically. It's very concerning to see that more than half have not been able to find economic opportunities to move on. They desperately need support to find alternative livelihoods and the opportunity to live a decent life." 
ActionAid is urging governments worldwide to ratify the International Labour Organisation Convention 121 (ILO C121) and ensure that in the case of incidents causing injury at work, injured workers, including dependents of deceased families, are well compensated, meeting the ILO C121 minimum standards. In addition to this convention, a UN binding instrument will encourage corporate accountability for human rights abuses and promote decent work. 
Wangari Kinoti, leading on Women's Rights and Feminist Alternatives at ActionAid International, said:

"Women are disproportionately in precarious work, making up 80% of garment workers globally. There are various conventions and agreements governing workers' rights, but human rights abuses and exploitation are on the rise. If we are to guarantee the overall wellbeing of millions of women workers, not only must there be more commitment and action at national level, but also a UN-level legally binding treaty to regulate the activities of transnational corporations and other businesses."  
---
To contact the ActionAid Press Office email  media-enquiries@actionaid.org or call +44 7586107955.  
We have spokespeople available including Farah Kabir, Country Director at ActionAid Bangladesh and Wangari Kinoti, Women's Rights and Feminist Alternatives Lead at ActionAid International. 
Notes to Editors 
For the study a mixed method approach was adopted, consisting of both quantitative and qualitative research methods. The methodology used contains the following elements: (a) Documents review; (b) Data collection; and (c) Data processing, analysis and report writing.  
For reviewing the documents, the Study Team reviewed all relevant documents relating to the ready-made garments (RMG) industry of Bangladesh and documents pertaining to the survivors of the Rana Plaza tragedy, including survey reports prepared by ActionAid Bangladesh in the past.  
For data collection, quantitative data was collected through 2 questionnaire surveys of garment factory workers and Rana Plaza survivors respectively. Using the statistical formula, the sample size came to 384 which has been rounded up to 400. Thus, a total of 400 respondents were surveyed, of which 200 are current workers of garment factories around Dhaka and 200 are Rana Plaza survivors.  
For qualitative data, information was collected by conducting key informant interviews (KIIs) and focus group discussions (FGDs) with key stakeholders, including Rana Plaza survivors, garment factory workers, garment factory managers, and representatives of trade unions and non-governmental organisations.  
About ActionAid 
ActionAid is a global federation working with more than 15 million people living in more than 40 of the world's poorest countries. We want to see a just, fair, and sustainable world in which everybody enjoys the right to a life of dignity and freedom from poverty and oppression. We work to achieve social justice and gender equality and to eradicate poverty.