Stop Funding Destruction and Begin to #FundOurFuture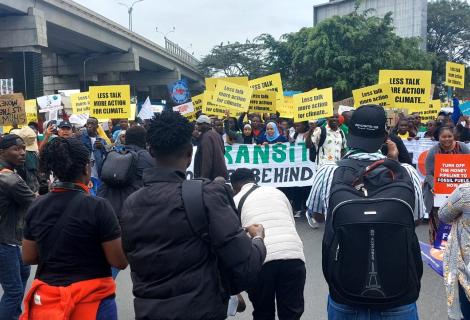 ActionAid today launched the Fund Our Future campaign during the People's Climate Summit in Nairobi, Kenya and published a report naming and shaming the biggest banks investing in fossil fuels and industrial agroecology in countries in the Global South.
Nairobi is hosting both Africa Climate Week and the Africa Climate Summit. The meetings bring the private sector and governments together to discuss climate change. 
We in civil society know that talk is only useful if followed by action. So, alongside countless organisations, ActionAid organised the People's Climate Assembly to launch a powerful new piece of research on the climate crisis. "How the Finance Flows: The Banks Fuelling the Climate Crisis,"  
This report tracks financial flows from banks to fossil fuels and industrial agriculture in 134 countries in the Global South. Despite global banks' public declarations that they are addressing climate change, the scale of their continued fossil fuel and industrial agriculture financing is staggering.
Our new research reveals:
Bank financing provided to the fossil fuel industry in the Global South reached an estimated US$3.2 trillion in the seven years since the Paris Agreement on Climate Change was adopted.
Bank financing provided to the largest industrial agriculture companies operating in the Global South amounted to US$370 billion over the same period.
Fossil fuel and industrial agriculture industries in the Global South are receiving an annual average of 20 times more financing from banks than governments are receiving for climate solutions.
ActionAid's demands:
Banks must immediately stop financing fossil fuel expansion and industrial agriculture that causes deforestation and human rights violations.
Banks must strengthen policies against human rights abuses and deforestation to protect communities.
Governments must regulate the banking sector to stop the financing of fossil fuel expansion, and they must scale up just transitions to real solutions such as renewable energy and agroecology.
To help celebrate this flagship piece of research, spoken word artist Willie Oeba performed, powerful words from Nigerian farmer Mary Arfan and Malawian farmer Tiwonge Gondwe were shared, and youth activists Patience Nabukalu and Eric Njuguna urged an end to bank financing of fossil fuels and industrial agriculture. And participants pledged support to the Fund our Future campaign with Susan Otieno, ActionAid Kenya's Director. 
The report is part of the Fund our Future campaign, involving more than 70 ActionAid offices and hundreds of allies. The movement aims to call on investors who are still funnelling money into fossil fuels and industrial agriculture in the Global South to divest from these harmful activities. We are also advocating for investment in renewable energy and for public support toward agroecological solutions that promote food security and social justice.
Find out more about the report here: How Finance Flows: Banks Fueling Climate Crisis.
Together, we can ensure a just, green, feminist, and more sustainable future for all—a future free from climate disasters caused by harmful emissions.
Stop funding destruction, let's start to #FundOurFuture.