Palestinians in Gaza pin hopes of a permanent ceasefire and sufficient humanitarian aid on the emergency Arab Summit in Saudi Arabia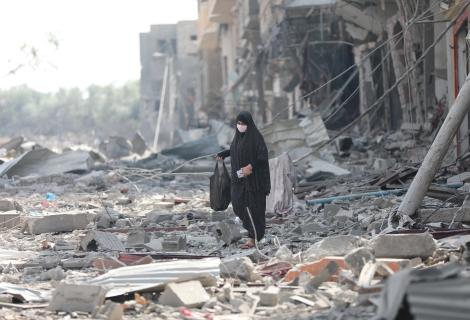 Palestinians in Gaza pin hopes of a permanent ceasefire and sufficient humanitarian aid on the emergency Arab Summit in Saudi Arabia says ActionAid   
Amid the continued escalation in Gaza, which has claimed more than 10,000 lives including 4,000 children, ActionAid notes that the most urgent priority for the Arab League Council's emergency summit is an immediate permanent ceasefire to prevent further loss of life, and the risk of a regional conflict.  
In addition, a clear framework for the safe passage of adequate humanitarian and medical aid must be agreed upon. The month-long conflict has left the 2.2 million Gazans in desperate need of food, fuel, clean water, shelter, medical supplies, and other essential services. 
Riham Jafari, Coordinator of Advocacy and Communication for ActionAid Palestine, said: 
"The emergency summit is being held at a critical time when the humanitarian situation in Gaza is reaching catastrophic levels. The summit must go beyond the rhetoric by reaching resolutions and strategies for an immediate ceasefire and the opening of the Rafah border crossing so that life-saving humanitarian aid is delivered into Gaza in sufficient quantities."  
The announcement of four-hour daily humanitarian pauses is a welcome development, but it does not live up to the aspirations of the Palestinian people in Gaza, who have lost so much in the last month. At this stage of the escalation, the survival of Gazans can only be guaranteed by a permanent ceasefire agreement and the restoration of full access to medical and humanitarian aid.   
The emergency summit presents an opportunity to increase diplomatic efforts toward a ceasefire and a resolution to this conflict. 
[ENDS]
---
To contact the ActionAid Press Office email media-enquiries@actionaid.org or call +44 7586107955 or +263 776665065. 
Spokespeople available: 
Riham Jafari, Coordinator of Advocacy and Communication for ActionAid Palestine, is available for comment.  
About ActionAid 
ActionAid is a global federation working with more than 41 million people living in more than 71 of the world's poorest countries.  ActionAid in the Arab Region works in Jordan, Lebanon, and Syria prioritising the leadership of women and young people, especially those living in poverty and exclusion, to achieve social justice, gender equality and poverty eradication. 
ActionAid Palestine has been working in the occupied Palestinian territory (oPt) for many years supporting Palestinian people living without access to basic services and the most fundamental human rights and freedoms. We are working with our local partners in Gaza among them partner organisations delivering essential health services, including mental health and GBV services.