ActionAid's Letter to the EU: Gaza Crisis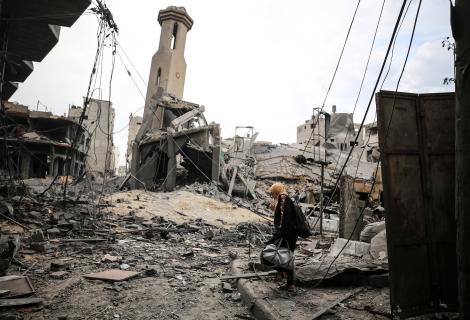 Dear Charles Michel, President of the European Council; Ursula von der Leyen, President of the European Commission and Josep Borrel High Representative Foreign Affairs, and European heads of government, 
ActionAid is standing in solidarity with innocent civilians whose lives have been torn apart due to the escalating violence in Gaza, the West Bank, Jerusalem and Israel for the past week.   
Israel as an occupying power, has been disproportionately responding by attacking civilians and essential infrastructure in the Gaza strip that was already under a protracted humanitarian crisis due to the siege imposed by Israel as a punitive measure. We are horrified by the number of civilian casualties, the destruction of civilian infrastructure, and the disproportionate use of military forces against more than 2.2 million civilians.  
On 13 October, thousands of civilians were ordered and forced by the Israeli army to flee northern Gaza, fearing for their lives. International law prohibits the forcible transfer of people, and Palestinians were met with more indiscriminate bombings while taking refuge in the south. Therefore, we ask the European Union (EU) to work on an immediate ceasefire, reversal of the evacuation order and the guarantee of the full protection and safety of civilians. 
Second, no humanitarian supplies have been allowed into Gaza for a week and food, water and medicines are running out, with even UN buildings no longer providing safe shelter as they have been targeted. Therefore, the EU should redouble the political and financial efforts for water, food, medicine and fuel to be allowed into Gaza immediately and for a safe humanitarian corridor to open as need be and not under conditions. Under no circumstances should this measure be used for the forced transfer of individuals to Egypt.  
Finally, the European Union must not only continue to provide assistance to the Palestinian people, both humanitarian and development, but also put all its political weight to make sure that international law is applied, and that accountability, through already existing international mechanisms is met.   
On Tuesday, the European Union should remind the world that is illegal in any context to target civilians, medical personnel, journalists, keep millions of people under siege and destroy water facilities, hospitals and essential services. ActionAid calls on the EU to seek a just resolution to the root causes that led to the escalation of violence and to apply the international law, notably regarding the blockade of Gaza and the expansion of illegal Israeli settlements in the occupied Palestinian territory which result in daily violence. 
Yours sincerely  
Ana Alcalde, 
Director of Europe and Americas,  
ActionAid International