Indonesia Earthquake aftermath, scenes of hope, despair - and grief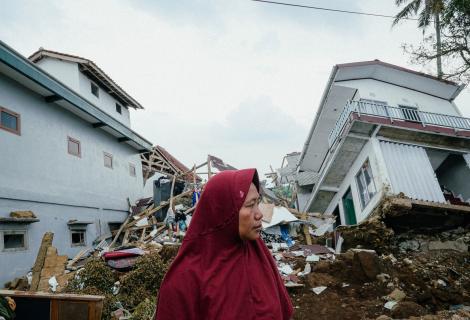 A faint but determined heartbeat is returning to areas that were hit by the recent earthquake in Indonesia. ActionAid Indonesia arrived in the Warungkondang District, Cianjur, on 28 November 2022, days after the earthquake hit. At least 321 people have been killed, 11 still missing and thousands are now in internally displaced people (IDP) camps.
Thousands of buildings, including houses, schools, mosques, and hospitals, had been damaged or destroyed. There is currently not much electricity available due to downed power lines. Many people have lost their homes, neighborhoods, and loved ones.
A trail of death and destruction was left by this earthquake, which had a magnitude of 5.6, which was much weaker than many others that had hit Indonesia recently. Why does this one differ so much? The 10km shallow depth of the Cianjur earthquake played a significant role in its severe damage. Given that much greater shallow catastrophes have occurred in Java in the past, this incident should serve as a wake-up call to the Indonesian government on building methods, it's not a question of 'if' but 'when' this level of destruction will be seen again.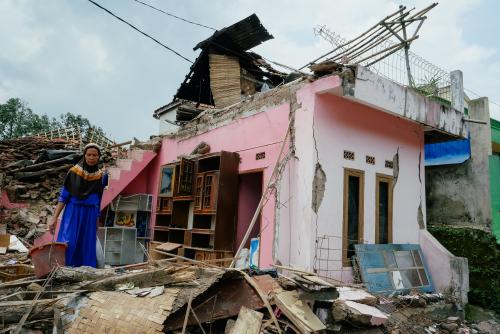 Families are being crowded into tents with hundreds of other people, with limited access to clean water or appropriate sanitation facilities. Flood-like circumstances brought on by tremors and heavy rainfall are ideal for the spread of sickness and infection, children and elderly people are more prone to getting sick in such environments and access to medication are difficult in such scenarios.
Some women told me that their homes were destroyed, and nothing is left.  "We've lost everything. Now our home is gone, we are living in tents with hundreds of other people, I don't have clothes or anything, for example, I only have one pair of underwear,'' one woman said to ActionAid Indonesia's local partner, Ety Heryati. The anxiety felt by these women about the future is clear, but they say ''life must go on''. As I stood outside imagining what life would be like for these people, I can see the makeshift tents of tarpaulin from the rice mill, made in the urgent rush to find shelter. These are not safe nor comfortable, with the basic materials used for making the tent causing skin irritations for some evacuees who said they felt itchy for several days.
There is a lack of clean water. As we walk through the tents, one after another, I see many women gathering to prepare food for their families and some women washing the few clothes they managed to salvage with either dirty river water or the drinking water from the nearby mosque which was limited for the available people. Emergencies like this earthquake hit women hardest, as women are the shock absorbers in times of crisis, putting the needs of their children and family ahead of their own. Families impacted are in dire need of life-saving assistance as soon as possible, but many of the most severely affected families reside in rural places that are already challenging to get to by road, but now some areas are impassable due to the earthquake, shutting off whole communities.
The circumstances in these camps serve as a striking illustration of how thousands of displaced people and other people throughout the region are affected by the shortage of supplies and access.
The frantic search for missing family members, lack of communication with the outside world, sleepless nights spent outside of shaky homes, and the fear of what the future holds means the terror does not subside easily.
As a Humanitarian and Resilience Program Officer at ActionAid Indonesia, my role is to assess the damage done by the earthquake and how we can support people to get back on their feet after losing everything they have. As I pass through the areas, the pain caused by the earthquake can still be seen deep within people's eyes.
I also visited the Sukaluyu District area on 2 December 2022, this area has become a buffer village, they are receiving refugees from the worst-hit sub-district. There was a very massive pattern of migration to other sub-districts within a few days after the disaster. More than 3,000 evacuees have spread across ten villages. Some are alone and confused after being separated from their families during the chaos. They still feel traumatised. Some displaced women and children felt they needed to visit their badly damaged houses every day, to see the condition of the houses and to wait for the time to collect data on compensation for damaged houses.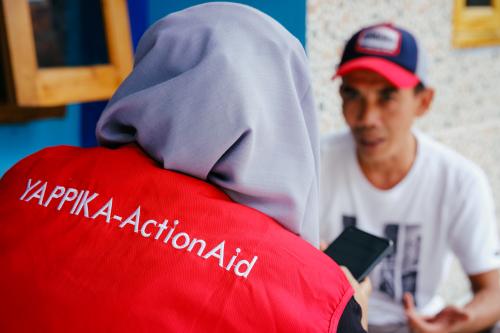 From ActionAid's assessment, some people who had taken refuge in relatives' homes that were not badly damaged, show that women and children have not received social support services and have not had their daily activities. We also noticed a lot of teenage mothers in the camp, which means they had family financial and parenting responsibilities. One of them is a widow.
In addition to complicating operations, aftershocks have made locals fear that the next tragedy could fall their shaky homes once more, and now they face the nearly impossible task of rebuilding their homes and family again.
As I reflect on myself and the work that I do, I see in the coming days, the situation for tens of thousands of young people will likely remain exceedingly dangerous, being out of school they are in dire need of psychosocial support to help them deal with the trauma they experienced.
Governments and charity organisations need to find affordable solutions quickly as families across the globe are being displaced by climate-related disasters.
I am aware from my past experience that following an earthquake of this magnitude, people require clean water, shelter, food, and medical supplies promptly. While it may take a few days or weeks for the full extent of the damage to become clear, ActionAid is working with its partner in the affected areas to provide vital well-being support to women and adolescent girls who have experienced the horrors of this disaster. We are also working to provide period products, food, and hygiene products to people who need them. 
Story by Richa Syapitri, Humanitarian and Resilience Program Officer at ActionAid Indonesia