Heavy rains threaten communities left homeless by Tropical Storm Ana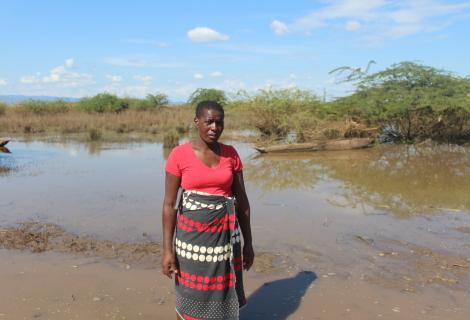 Heavy rains and Tropical Cyclone Batsirai are threatening communities in Southern Africa left reeling after Tropical Storm Ana destroyed their homes, schools and farmland.
ActionAid's emergency teams are providing support to families in some of the worst affected areas of Mozambique, Malawi and Zimbabwe.
Higino Filimone, ActionAid Mozambique's partnership development manager, says:
"We are now forecast more rains and the concern is that this will worsen current conditions brought by Tropical Storm Ana.
"Many people have been left without homes and while humanitarian agencies still need to conduct assessments to provide them with shelter, the worsening condition of roads is making it impossible to reach some areas. In Nampula province, it's currently not possible to provide assistance in some of the worst affected communities due to road conditions."
In Mozambique, storm Ana has affected more than 126,000 people, injured 210 and killed at least 21 people, according to UN figures. The storm also flooded nearly 40,000 hectares of crops and destroyed more than 540 classrooms.
ActionAid Mozambique is providing emergency relief in Zambezia province. Nearly 3,000 people will receive food support and dignity kits for women, including reusable sanitary pads, water purification tablets and soap. 1,180 children will receive school kits including writing equipment and uniforms.
In Malawi, storm Ana affected more than 216,900 people and killed at least 10 people, with nearly 40,000 families displaced by heavy rains and flooding.
Clement Ndiwo Banda, ActionAid Malawi's head of programmes and policy, says:
"In the next few days, unfortunately, there will be more rain which remains a risk for the lower parts of the country. The situation is dire. There are many people currently in camps with limited food supplies and requiring shelter."
ActionAid Malawi is preparing to respond in southern Malawi where communities it supports are in urgent need of shelter, food support, bedding, dignity essentials and school kits. 
ActionAid's local partner, Kuchene Women Forum, is ready to provide protection support as women and children are forced to sleep outside their damaged homes, putting them at greater risk of sexual and gender-based violence.
In Zambia, storm Ana has worsened conditions in communities already affected by heavy rainfall and flooding throughout January in southern and eastern provinces. Homes have been damaged, crops have been swept away and water sources are contaminated.
More than one million people are in need of food support and need safe water and sanitation.
ActionAid Zambia is preparing to respond by providing food support and repairs to homes and classrooms destroyed by the flooding in Sesheke, Nalolo and Gwembe.
In Zimbabwe, ActionAid is planning to provide disaster risk reduction training in three cyclone prone districts, Chimanimani, Chipinge and Nyanga to support communities to prepare for future climate disasters. Emergency teams will also provide classroom and roof repairs, dignity and hygiene kits and buckets and water guards to reduce the risk of water-borne diseases.
Ends.
For more information and interview contact Jenna.Pudelek@actionaid.org or call +447795642990.
Notes to editors:
Images of the impact of storm Ana in Southern Africa and ActionAid's emergency response are available to download from this