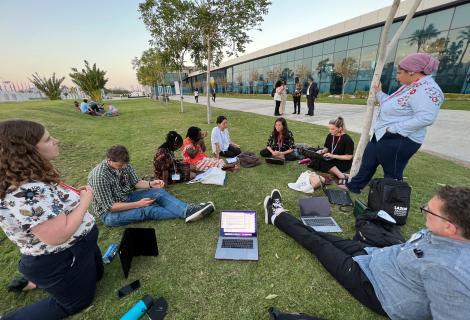 ActionAid's expert spokespeople and young activists from the Global South are available for interviews, briefings, and commentary throughout COP27.  
To contact the ActionAid media team, email the press office.
ActionAid's expert team
Teresa Anderson is ActionAid International's Global Lead on Climate Justice. Teresa is the head of the delegation and lead spokesperson at COP27. She leads ActionAid's climate policy work on loss and damage, land, agriculture, and net zero, and coordinates Climate Action Network (CAN's) working group on agriculture. She will be analysing outcomes from the negotiations at COP27 and is available for interview throughout the talks.  
You can follow Teresa on Twitter: @1TeresaAnderson. 
Susan Otieno is the Executive Director at ActionAid International Kenya. Susan recently undertook a tour of Europe to encourage support for the response to the Horn of Africa Drought and Food Crisis through engaging media, Parliamentarians, Senate representatives, and special Ambassadors of African Affairs. She is currently a Board member at the Core Humanitarian Standards Alliance and has previously sat on different boards namely: Kenya Development Trust Fund (2013 – 2017) and Kenya Climate Innovations Centre (2016 to 2019). 
Farah Kabir is the Country Director of ActionAid Bangladesh. Farah has contributed as the Chair of the Global Board of the Global Network of Disaster Risk Reduction (GNDR) since 2015. She is an elected Board Member of Climate Action Network South Asia (CANSA) and an advisor of the Advisory Group of PDD (Platform of Disaster Displacement). In 2013, she was selected as one of the '100 Women on Climate Change organized by the International Women's Earth and Climate Action Network. Farah focuses on climate justice for gender equity based on her working experience with women from the frontline tackling impacts of climate change. Farah is participating in COP 27 to represent voices from the global south and to share the learnings from the lived experience of frequently tackling climate-induced disasters in Bangladesh.  
You can follow Farah on Twitter: @kabirfarah.  
Flora Vano is the Country Program Manager for ActionAid Vanuatu. Flora played a critical role in providing leadership to the start-up of Women TokTok Tugeta (WITTT) Forums, a platform and safe space for diverse Ni-Vanuatu women to organize and strategize.  She is a finalist of 2022's "The Rising Star" global DRR Award and she has also played a lead role in establishing Women Wetem Weta (WWW) which is a network of young women monitoring the weather for early warning and preparedness using mobile phone technology. Flora has also represented the country on various platforms to bring in Ni-Vanuatu women's perspectives on both regional and global spaces including the VCAN (Vanuatu Climate Action Network). 
Mercy Grace  Munduru is ActionAid Uganda's Head of Programmes and Fundraising. Mercy is a Feminist and Human Rights Lawyer and is one of ActionAid's spokespersons at COP27.  She will be joining the panel on Psychosocial Support to both refugees and host communities covering  wider East Africa (connecting non-economic loss and damage).  
You can follow Mercy on Twitter: @deuce_mercy.  
Brandon Wu is ActionAid USA's Director of Policy and Campaigns. He is an expert on climate finance, equity and fair shares, climate-induced migration and displacement, and the role of the United States in global climate negotiations. He will be present and available for interviews in Sharm el Sheikh for the second week of COP27.  
You can follow Brandon on Twitter: @brandoncwu. 
 
Nils Mollema is the climate justice policy advisor at ActionAid Netherlands where he is responsible for following developments in climate finance, Loss & Damage, climate policy coherence, and net zero. Nils has also been the spokesperson for ActionAid on the historic Royal Dutch Shell Climate case. He will be analysing outcomes at COP on climate finance, Loss & Damage, and fare shares.  
You can follow Nils on Twitter: @MollemaNils.   
Kat Tu is the Head of Policy and Campaigns at ActionAid Australia. Kat has ten years of experience working in the progressive campaign space, with expertise in digital campaigning and fundraising, corporate campaigning, and community organising. She is particularly passionate about equity, racial justice, and intersectional feminism. Kat holds a combined Bachelor of Arts and Law from the University of Sydney. 
Sophie Rigg is ActionAid UK's Senior Climate and Resilience Adviser and leads their climate policy and research work focusing on the intersection of gender justice and climate justice. She specialises in locally led and gender-just climate adaptation, climate resilience, and loss and damage. She is a board member of the Global Network for Disaster Reduction (GNDR) and on the Steering Committee of CAN-UK. Sophie is also an observer on the Climate Investment Funds. She is available for an interview at COP27 during the first week of the talks and can focus on women's lived experience of loss and damage and their leadership in tackling the climate crisis (6-14th Nov).  
You can follow Sophie on Twitter: @RiggSophie
Allies and activists:  
Jeniffer Kibon lives in Kenya and is spearheading climate justice conversations. Jennifer has experienced ongoing drought in Kenya and lost her only source of income when her livelihood was destroyed. As a member of the women's social movement with 3,000 women, they work to address climate justice through the establishment and diversification of income such as poultry rearibeekeepingping and promotion of agroecology. The rural women's movement aims not only to get empowered economically but to have a platform to share ideas, influence policy, and denounce violence against women and girls. Jeniffer doesn't speak English and will use a translator. 
Rand Al-Khushman is a Program Assistant in the ActionAid Arab Region Jordan office. She is a Jordanian Young Activist in Climate Justice Actions and the leader of "Youth4Climate" Rand will be representing the youth in the climate adaptation agenda at COP27, campaigning to accelerate the transformative adaptation required to the growing impacts of climate change. 
Follow Rand on Instagram: @rand_alkhushman or on Twitter: @Randkhushman96
---
Youth activists 
Ally Mwamzola (Tanzania)  
Ally is a youth climate activist who began his climate activism when he was in high school, where he co-founded a Youth of United Nations Association students club that started doing small activities on climate change such as planting trees around the school, organizing community awareness activities on climate change to encourage behavior change and keep the environment clean.  
He became a Sustainable Development Goals Champion in 2017, and over the years has worked with various NGOs, networks and platforms such as ACTIVISTA, ActionAid Tanzania, Global Platforms, YUNA and UNA to empower young people in Tanzania in conserving the environment, to achieve the SDGs and Youth 2030 Agenda.  
He is a dynamic climate justice enthusiast who had the opportunity to represent Tanzania and the Global South youth voices on Climate Action and Climate Justice with ActionAid at COP26-Glasgow, UK through a youth-led climate justice campaign (Global Youth-Led Climate Campaign) to address and raise the voices of young people from the region.  
After COP26 Ally has initiated and lead several projects such as OUR ENVIRONMENT, OUR TOMORROW aiming to empowering youth who are in and out of learning institutions to act on climate change and young people to take lead on matters that affect them, conducting climate justice workshops and trainings, holding public dialogues in universities about climate financing, capturing stories on climate change and planting trees.  
He currently also serves as the Coastal Zone Coordinator at Activista Tanzania a network under Global Platform and ActionAid Tanzania and as National Treasurer with Youth of United Nations Association of Tanzania (YUNA). 
Ally would like to talk about: 
Loss and Damage in Njinjo, Kilwa after the 2020 floods. 

Demand Global Leaders to Establish Loss and Damage Facility and keep their commitment for Climate Finance on Loss and Damage  

Youth to be at the centre of Climate Action 
Rand Al-Khushman (Arab Region)  
Rand is a Program Assistant in ActionAid Arab Region Jordan office. She is a Jordanian Young Activist in Climate Justice Actions. Rand also works as the leader of "Youth4Climate" Campaign. Rand will be representing the youth in the climate adaptation agenda at COP27, campaigning to accelerate the transformative adaptation required to the growing impacts of climate change. 
From her own words: 'I am always I am reminding myself and others: the less we do to address climate change now, the more regulation we will have in the future.' 
Follow Rand on Instagram: @rand_alkhushman or on Twitter: @Randkhushman96
Happy Itros Sanga (Tanzania)  
Happy is a renowned young feminist, climate activist and the immediate former President of The University of Dar es salaam Students' body where she was leading more than 100,000 students. She is a peer educator and currently volunteering with Global Platform Tanzania. In August this year, she was awarded as the Female Young Leader of the year in Tanzania Emerging Youth Awards making great impact to their local community. Besides this, she was also recognized by Tanzania Sheroes Association and Embassy of Sweden in Tanzania as one of the most inspiring young woman in empowering students especially young girls. She believes gender equality, inclusive decision making and accountability in leadership are key features of tackling climate injustice. 
Languages: English and Swahili 
How is climate change affecting your country? 
Tanzania is at a higher risk of losing biodiversity. For the past 32 years to date, Mount. Kilimanjaro has lost 70% of its ice. Recently a wildfire broke out around Mt.Kilimanjaro burning down a huge amount of land within 24 hours. This verifies that we need more proactive measures to protect our planet. 

Currently the whole of Dar es salaam (my home city) is suffering from insufficient electricity and water supply because water has reduced in the Ruvu hydroelectric power plant due to increased temperature. The Tanzania Electric supply Company Limited has recently announced that electricity will be offered in distributions where some places will have electricity in the morning and others will have electricity at night. This is how the climate crisis continues to damage and reduce productivity in the country since many people depend on hydroelectric energy.  

In addition to that, because of increased temperature, the water level in Ruvu Dam has reduced. This has led to scarcity of water supply in different regions of Tanzania causing most young girls and women to suffer when they go through their monthly menstrual period. Hence being forced to use unsanitary water leading to infections.