ActionAid calls out US claims that carbon markets will fulfil climate goals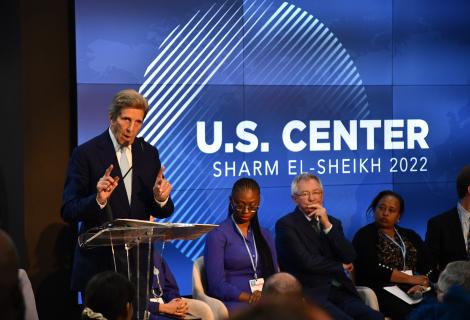 In response to an announcement by US Climate Envoy Secretary John Kerry about US plans for the Energy Transition Accelerator (ETA), Kelly Stone from ActionAid USA said: 
"Carbon markets are not climate finance. Secretary Kerry keeps repeating that public finance alone will not be enough to meet our climate goals, but no one is actually claiming this. Now is the time for the US to take responsibility for how much it has contributed towards climate injustices.

Climate finance is fundamental to meeting the goals of the Paris Agreement and the US has already repeatedly failed to meet their obligations. It's exhausting to hear this talking point over and over again when the US still owes money to the Green Climate Fund for a 2014-era pledge.

Carbon markets have historically failed to fulfil climate goals and often profoundly harm communities and undermine human rights. The Secretary's claims that this time will be different aren't enough. There is no space for offsets if we are to meet a 1.5C goal."
---
To contact the ActionAid media team, email the press office.
About ActionAid  
ActionAid is a global federation working with more than 15 million people living in more than 40 of the world's poorest countries. We want to see a just, fair and sustainable world, in which everybody enjoys the right to a life of dignity, and freedom from poverty and oppression. We work to achieve social justice and gender equality, and to eradicate poverty.