Women and children forced to sleep on the streets following devastating Haiti earthquake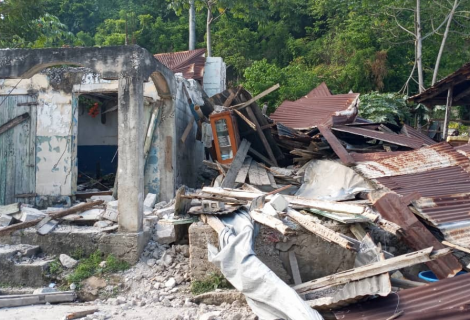 ActionAid Haiti's network of women trained as first responders during emergencies are set to provide emergency relief, including first aid and support for women and girls at risk of gender-based violence in areas of Haiti most affected by the deadly earthquake.
Widespread destruction of homes and infrastructure has left many families in desperate need of shelter and food support, facing another night sleeping on the streets.
Alix Percinthe, field coordinator for ActionAid Haiti in Grand'Anse, has been carrying out urgent needs assessments in Jérémie and Roseaux.
"In some villages, I saw that most of the homes were destroyed or damaged. These are poor communities that were already vulnerable," he says.   
"Their houses were not solid, they were flattened, and some people were killed by falling rocks from landslides triggered by the quake.
"In all areas the most urgent needs are food, water and shelter. Last night, families slept in the street either because they lost their homes, or they were too afraid to stay inside."
People are struggling to access healthcare with hospitals already overwhelmed with Covid-19 patients and damaged by the earthquake. Alix found that five health centres in Corail, Carrefour Charles, Duchity, Latiboliere and Pestel were destroyed.
He said most of the people injured were women and children.  
ActionAid's response to the earthquake includes providing food support, shelter, essential items including blankets, pillows, kitchenware and hygiene kits for women and girls.
Women trained to be leaders in emergencies are providing emergency response including running protection services and first aid support at safe spaces in Roseaux and Beaumont.
ActionAid Haiti has trained groups of women on how to prepare and respond when disasters strike.
When Hurricane Matthew hit in 2016, they were ready to respond, and the same network of women leaders are being deployed to areas most affected by yesterday's earthquake.
Women and women-led organisations lead ActionAid's response during emergencies because they are uniquely placed to respond to the specific and disproportionate needs of women, girls and marginalised groups, including the increased risk of gender-based violence.
Ends.
For more information call +447795642990, email jenna.pudelek@actionaid.org or jess.midwinter@actionaid.org.