We have to stop cheerleading the climate criminals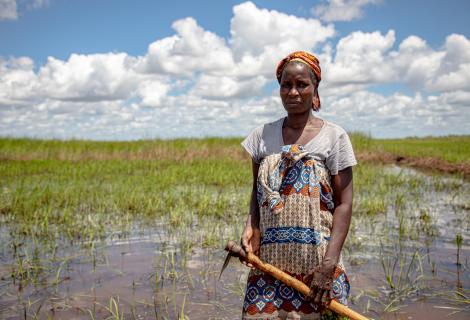 ActionAid responds to the launch of Agriculture Innovation Mission for Climate (AIM 4 Climate)
Glasgow, 2nd November 2021 – ActionAid responds to Presidents Biden's launch of Agriculture Innovation Mission for Climate (AIM 4 Climate) at the UN COP26 summit.  
Tristan Quinn-Thibodeau, National Campaigner at ActionAid USA says: "It is clear that the U.S. government is focusing on protecting the profits and power of agribusiness corporations at the expense of science and the communities who will be most impacted by hunger and negative climate impacts.  
"AIM 4 Climate undermines global action to protect and ensure food security in the face of the climate crisis. The AIM 4 Climate coalition is part of a broader strategy by the US government to hijack climate action and the public good and allow agribusiness corporations to take over the agenda. 
"Both coalitions are based on the faulty, "productivist" narrative which says the world must produce more food to end hunger. However, the reality is that the world already produces more than enough food for everyone and that hunger is a result of the poverty and the extreme power imbalance created by the activities of agribusiness companies." 
ActionAid is calling for recommendations at COP26 that promote agroecological farming practices, which work with nature and build climate resilience, and include climate finance to support developing countries to adapt, cope with climate impacts and transition to greener economies.   
Teresa Anderson, Climate Policy Coordinator at ActionAid International, says: "Climate science has given a clear message that food systems must move away from industrialised agriculture, towards agroecological practices that work with nature and support smallholder farmers. So, it's no surprise that Big Agribusiness corporations are fighting back with a new greenwash initiative to try to stay relevant. 
"With no clear criteria or definitions, AIM 4 Climate is based on flawed ideas of carbon offsetting, and techno-fixes which are the very worst agricultural practices that drive up emissions, erode biodiversity and marginalise smallholder farmers. Instead of transitioning away from these destructive models of agriculture, AIM 4 Climate props it up.  
"AIM 4 Climate is not a solution either to the climate crisis or to food insecurity. If we're serious about acting on climate change, we have to stop cheerleading the climate criminals." 
Agroecology, and not so-called "climate-smart agriculture", is the most viable solution to the climate and hunger crises.  Agroecology builds on ecological farming practices, which dramatically reduce greenhouse gas emissions while restoring the soil and building adaptation and resilience. 
Agroecology also puts the human rights of people at the centre of policy-making, which promotes a more democratic society where the people who produce the food and care for the environment hold the power.  
Agriculture negotiations must agree a shift away from the harm caused by industrial agriculture, factory-farmed livestock, and soil carbon markets, towards agroecology and improving land rights and access to markets for women farmers.   
ENDS 
For more information please contact: jess.midwinter@actionaid.org / (+44) 7858436362