Tropical Storm Eloise: Women-led emergency teams help families to safety amid severe flooding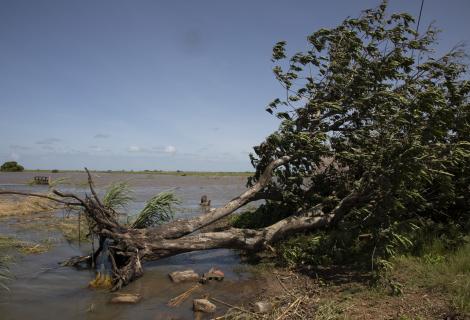 As Tropical Storm Eloise hurtles towards Mozambique and is expected to hit areas still recovering from the devastation of Cyclone Idai, ActionAid's women-led local emergency teams are helping their communities evacuate to safe areas.
Three people have already died due to heavy rains and flooding. More than 18,700 hectares of maize and rice fields have been flooded and nearly 2,000 homes destroyed.
The powerful storm is expected to intensify into a cyclone before it makes landfall in Sofala province, where over 100,000 families have been living in tents and temporary shelters since Idai.
Local women and young people trained as emergency first responders by ActionAid Mozambique are helping more than 600 families in Buzi and Nhamatanda districts evacuate to shelters in safe areas.
Speaking from Beira, the capital of Sofala province, Marcia Penicela, project manager at ActionAid Mozambique, says: 
"Since Cyclone Idai, families in the most affected areas have been hit by flooding and droughts. This storm will be another devastating blow as they struggle to rebuild their livelihoods.
"Over the past two days, flooding and heavy rains have already swept away maize and crops. Communities have been living in resettlement camps for nearly two years, they're very vulnerable to further climate disasters."
More than 1,000 people died when Cyclone Idai tore through Mozambique, Malawi and Zimbabwe, in March 2019, displacing more than 100,000 people as the storm ripped apart homes and livelihoods.
Almost two years on, millions of people are facing rising food insecurity, and many are still living in temporary shelters.
Ends.
For more information and interviews contact jenna.pudelek@actionaid.org or call +447795642990. 
Notes to editors:  
Download images showing the damage caused by Cyclone Idai in Mozambique and Zimbabwe, and more recent flooding in Buzi, Mozambique: https://stories.actionaid.org/pages/search.php?search=%21collection5829…