Nepal Covid crisis: 'Our gravest fears are turning into reality'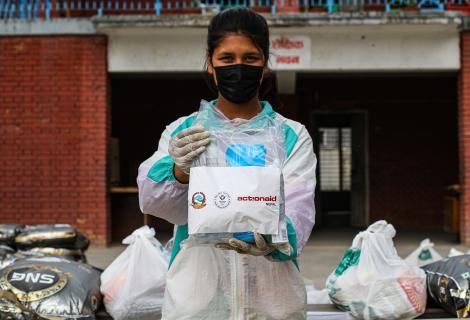 As Nepal reports an alarming rise in Covid-19 cases and its highest daily total of new infections, ActionAid is calling for urgent support for the country's overwhelmed health service.  
ActionAid Nepal and its local partner provided oxygen cylinders – which are in desperately short supply throughout the country – to a 50-bed isolation centre in Banke district, one of the areas worst affected by the second wave.    
Sujeeta Mathema, Executive Director of ActionAid Nepal, says: 
"We are witnessing our gravest fears turning into reality. Deep down, we knew that it was only a matter of time before the 'news from India' becomes a reality in Nepal.  
"There are fears that the Covid-19 situation in Nepal may escalate to be as bad if not worse than India, which is seeing a tsunami of infections and deaths. 
"We are seeing cremation centres around the country filling up fast, and family members unable to properly perform last rites for their loved ones. 
"Our fragile healthcare system is being stretched beyond its limit and frontline workers are under immense pressure. People with Covid are desperate, their relatives and caretakers inconsolable." 
Nepal has only 1,600 intensive care beds and fewer than 600 ventilators for its population of 30 million people, with just 0.7 doctors per 1,000 people. 
ActionAid Nepal's response to the second wave is being led by women and young people, and will target the poorest and most marginalised, who are being most affected by movement restrictions and have least access to overstretched and overcrowded hospitals and limited medical supplies. 
Its response includes:
Medical equipment to support health centres, including oxygen cylinders and concentrators, personal protective equipment (PPE), sanitiser, PCR and antigen tests for Covid-19.
Support for isolation centres, including food, PPE and oxygen cylinders and concentrators.
Counselling support for Covid-19 patients, their families and frontline health workers.
1,500 Covid-19 prevention kits to people isolating at home, including thermometers, PPE, pulse oximeters and sanitisers. 
Ends.
For more information contact Jenna.Pudelek@actionaid.org or call +447795642990.