The global south has the solutions on climate adaptation – but urgently needs the resources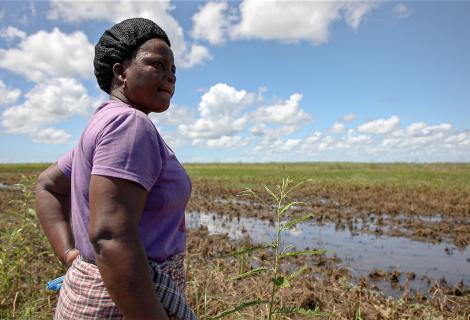 As world leaders gather virtually for the Climate Adaptation Summit, hosted by the Netherlands, ActionAid is calling for rich countries to energise their efforts on adaptation finance.
It comes as ActionAid's local, women-led emergency teams respond in areas hit by Cyclone Eloise, which made landfall in Mozambique on Saturday (23 January). The powerful storm hit communities still struggling to rebuild their livelihoods after Cyclone Idai and where over 100,000 families are still living in temporary shelters.  
Harjeet Singh, global climate lead at ActionAid, says:  
"As areas of Mozambique still reeling from the devastation of Cyclone Idai are pounded by another powerful storm and severe flooding, it serves as a stark reminder of the urgent need to support developing countries already battling the climate crisis. 
"Yet, there is a huge and widening gap between the support needed by vulnerable nations to adapt and protect against the impacts of climate change, and the finance being provided by rich countries.  
"This week's summit must serve to energise lacklustre efforts on adaptation. Experts in the global south have the solutions, they just need the resources to protect their frontline communities." 
Rich countries are way off track for meeting the $100 billion a year in finance pledged to support developing countries to adapt to climate change.  
A 2020 report by Oxfam found that donors provided $60bn per year on average in 2017 and 2018. However, 80% ($47bn) of all reported public climate finance was provided as loans rather than grants, pushing the world's poorest countries further into debt and poverty.   
The UN Environment Programme (UNEP) predicts that $280 billion a year will be needed to support developing countries with adaptation by 2030, rising to $500bn by 2050.  
Ends. 
For more information and interviews contact jenna.pudelek@actionaid.org or call +447795642990.