Game of two halves – football finals offer ray of hope in Europe while Uganda turns stadium into Covid-19 hospital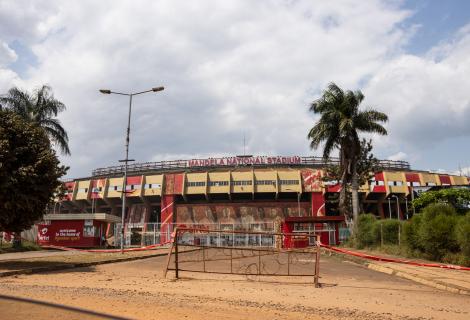 Number of Ugandans fully vaccinated equivalent to less than 5% of Wembley stadium capacity.
While England and Italy rightly celebrate being in the final of the Euros, the scene couldn't be more different in Uganda, where the national football stadium is being turned into a Covid-19 hospital.
In stark contrast to the scenes from Wembley Stadium, the Mandela National Stadium, on the outskirts of Kampala, is being kitted out with enough beds to treat over a thousand Covid-19 patients, as a steep rise in cases has stretched the country's health facilities to breaking point.
The Delta variant has combined with the existing South African strain to create a deadly third wave in Uganda and other countries across Africa. Countries are facing the newer more contagious strains with minimal health services as vaccine stocks run dry.
Aid agencies who are part of the People's Vaccine Alliance, including ActionAid International, Amref Health Africa, Oxfam and UNAIDS, say the situation in Uganda is dire:
Cases in the country went up by over a thousand per cent in June.
In the past 14 days, the number of deaths increased by 88 per cent.
Uganda has lost more than fifty health workers, including sixteen doctors, to Covid-19 in just two weeks; the country already has only one doctor per 5000 people compared to 1 for every 240 people in Germany.
Covid-19 poses a severe risk for people who have not had both doses of a vaccination course, but just over 4000 people are fully vaccinated in Uganda, out of a population of over 45 million - the equivalent of less than 5 per cent of the normal 90,000 capacity of Wembley stadium.
On top of Uganda's population of 45 million, it is also the largest refugee hosting country in Africa with more than 1.45 million refugees and asylum-seekers who are also in dire need of vaccines.
One dose of the Pfizer vaccine costs more than Uganda spends per citizen on health in a whole year.
Dr Patrick Kagurusi, a doctor and Country Manager at Amref Health Africa Uganda, said:  "We already don't have enough health workers and now our doctors and nurses are dying. Those left working on the front line are in fear for their lives, not properly protected because we are running out of PPE, and many are severely traumatised from losing patients and colleagues.
"The health system is totally overwhelmed, and our hospitals and health centres are full. Oxygen shortages have reached a critical point and people are dying because we don't have the supplies."
Winnie Byanyima, Executive Director of UNAIDS, who is from Uganda, said: "My friends and relatives are dying. Every few hours I am getting messages of loss.
"What tiny vaccine supplies the country has are nearly finished, yet leaders of rich countries continue to ignore complaints about their pharmaceutical corporations fuelling vaccine apartheid."
Vaccines are being artificially rationed worldwide as they are only being produced by a handful of Pharma corporations who have a monopoly and have mainly prioritised selling at high prices to rich countries. The Alliance are calling for the EU, Germany and UK to stop blocking proposals put forward by many developing nations – and backed by the US and France - to waive the intellectual property on Covid-19 vaccines, which would enable vaccine manufacturers in Africa and across the developing world to make their own vaccines.
Max Lawson, Oxfam's Head of Inequality Policy, said: "In Europe, crowds in football grounds offer hope of a return to normal life, while in Uganda the national stadium is filled with emergency beds and patients gasping for breath. It is hard to think of a starker example of vaccine apartheid.
"The hope of escaping Covid's deadly grip shouldn't be limited to people in rich countries and there would be enough vaccines for every country if pharmaceutical corporations shared their science and know how.
"Developing countries are simply demanding the right to make their own vaccines and are being stopped from doing so.  We call on the governments of the UK and Germany and the EU to stop putting Pharma monopolies ahead of saving lives."
While G7 countries have pledged to donate one billion vaccine doses to poorer nations, with the aim of delivering half by the end of the year, the Alliance says this is less than a tenth of the doses needed to vaccinate all countries and isn't fast enough to prevent the loss of many lives.
Uganda has received just over a million doses of Covid-19 vaccines, mostly via COVAX and has already administered 87 per cent of them. This means the country has only had enough vaccines supplies to give a single dose to just two per cent of the population and most African countries have received far fewer. Learning from the HIV struggle decades ago, the only sustainable way to fully vaccinate African countries would be to give them the ability to manufacture their own.
Xavier Ejoyi, ActionAid Uganda's Country Director, said: "Dose sharing is urgently needed but donations alone will not fix the problem. Ending the pandemic will only happen once developing countries have their own reliable and sufficient supply of vaccines. In the face of rising Covid-19 cases in the global south, we need a People's Vaccine more than ever."  
Ends.
Notes to editors:
Uganda Covid-19 stats from Our World in Data as of 6 July: https://ourworldindata.org/coronavirus/country/uganda
Only 4,129 people in Uganda have been fully vaccinated with two doses, the equivalent of 4.58 per cent of 90,000 - the normal full capacity of Wembley stadium or 6.8 per cent of the reduced 60,000 crowd currently planned for the Euros semi-finals and final.
Covid-19 cases in Uganda increased from 2,887 in May to 32,716 in June, a 1033 per cent increase.
Covid-19 deaths in Uganda increased from 195 in the 7 days up to 22 June to 367 in the 7 days up to 6 July, an 88 per cent increase. The actual death toll is likely to be significantly higher, given many people are being cared for at home, due to lack of health facilities.
More than 50 health workers, including 16 doctors have died from Covid-19 in Uganda in the last 2 weeks: https://observer.ug/news/headlines/70396-16-doctors-succumb-to-covid-19-in-last-2-weeks
The population of Uganda is 45.741 million, according to UN Population.
Pfizer cost $7.25, Uganda health spending $7 per capita.
Only 2.17 per cent of the Ugandan population have received one dose of a Covid-19 vaccine –990,902 vaccines have been administered.