Cox's Bazar: ActionAid supports families fleeing devastating blaze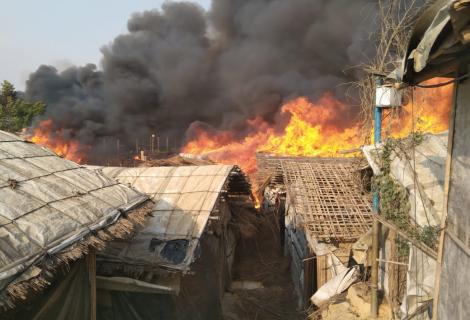 Cox's Bazar - A large and devastating fire has broken out in the Cox's Bazar Rohingya refugee camp, which is home to more than a million Rohingya refugees. 
ActionAid has opened its existing community centres as temporary shelters for families displaced by the fire.  
Farah Kabir, country director of ActionAid Bangladesh, says: "ActionAid's emergency teams are supporting families fleeing the fire in the camp. Hundreds of refugees, particularly women and children, are affected by the blaze.   
"Community volunteers are working to safely evacuate families to safety. We know the immediate needs of those affected will be access to medical support, emergency shelter, food, and sanitation services.  
"Due to overcrowding, addressing social distancing and preventing the spread of Covid-19 is an urgent priority.  
"ActionAid has teams on the ground, and we are leaning more as the situation evolves." 
Community shelters and vital services, including health facilities, have been damaged. Displaced people are taking shelter in nearby camps while health facilities are being urged to remove gas and oxygen cylinders from their facilities. 
ENDS. 
For more information please contact Jess Midwinter: jess.midwinter@actionaid.org, +44(0)7858436362