COP26: A text that creates the illusion of action is arguably worse than no text at all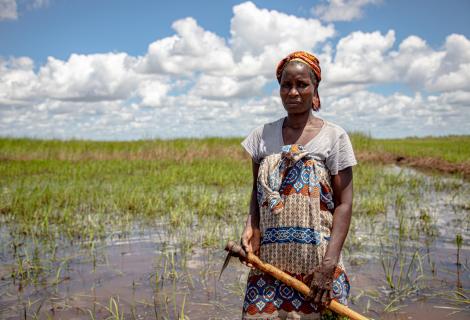 Glasgow, 10 November – ActionAid responds as the new draft text of the COP26 negotiation falls far short of the action and commitments needed to limit warming to 1.5˚C and support frontline communities.
Speaking at a Climate Action Network (CAN) briefing from the climate talks in Glasgow, Teresa Anderson, Climate Policy Coordinator at ActionAid International, said:
"Where is the support to help people forced to pick up the pieces after climate disasters?
"Where are the real commitments that the world needs to limit warming to 1.5C, or to back up the need for action with climate finance?
"With this text our leaders are failing us all. These empty words are way off target to meet the scale of the enormous challenge facing humanity."
The draft text makes a welcome reference to loss and damage, and the devastation already being caused by the climate crisis. But this recognition of urgency is not matched by a commitment to create a new mechanism to support communities being torn apart by climate disasters.
Ms Anderson said: "These are just words. When it comes down to it, they will make no difference to the communities, smallholder farmers, women and girls in the Global South. This text will still not do anything for who are being hardest hit by deadly flooding, cyclones, drought, rising sea levels and crop failures.
"A text that creates the illusion of action is arguably worse than no text at all."
References to fossil fuels and subsidies is a significant addition that must be built on by inclusion of all fossil fuels, not just coal, recognising equity by demanding more from the biggest polluters and linking the call to action with increased climate finance for developing countries to transition to greener economies.
"The new text at COP26 contains a dangerous assumption that 'net zero' climate targets are both necessary and sufficient for achieving the 1.5°C goal," Ms Anderson added.
"Net zero is a myth that's being used by polluters and governments to lure us into a false sense of security that the climate crisis is being addressed.
"The 'net' in net zero allows for dangerous and unachievable amounts of carbon offsets in climate targets. Meanwhile net zero by 2050 targets disguise climate inaction for decades.
"The text talks about escalating climate action to meet the 1.5°C target. But the maths of this paper does not add up. The fact is - we must choose between net zero targets and the 1.5°C goal. We cannot have both."
The latest text comes after yesterday's grim analysis by the Climate Action Tracker that the world is heading towards at least 2.4C of warming due to empty net zero targets that are 'paying lip service to climate action'. 
Ends.
For more information please contact: jess.midwinter@actionaid.org or +447858436362. Or jenna.pudelek@actionaid.org or call +447795642990.