Asian organisations unite in call for a People's Vaccine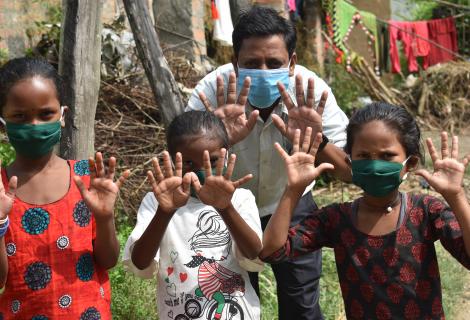 More than 150 local and international organisations and campaigners across Asia have signed a joint letter to Asian leaders and health ministers, calling for improved access to Covid-19 vaccines across the region.
The signatories are calling on leaders to support a temporary suspension of intellectual property rules for Covid-19 vaccines and to encourage big pharmaceutical companies and rich country governments to voluntarily join the World Health Organisation's COVID-19 Technology Access Pool (CTAP).
The publication of the letter coincides with the launch of the People's Vaccine Alliance-Asia, one of three regional subgroups that comprise the People's Vaccine Alliance - a global movement of NGOs, Nobel Laureates and political leaders calling on governments and pharmaceutical companies to make affordable Covid-19 vaccines available to everyone.
The People's Vaccine Alliance Asia sets out in its charter how the pandemic has introduced a crisis of multiple dimensions that continues to massively impact health and economic systems across Asia and the Pacific.
Solving this crisis will require systemic change, but an urgent, life-saving first step is to fight the pandemic through free, fair, and equitable access to vaccinations.
They are demanding that:
Everyone on the planet should have access to safe, effective free vaccines;
All countries prepare transparent vaccination plans which prioritise access to vaccines for frontline health and other care workers, people with pre-existing medical conditions and marginalised groups;
Governments and corporations commit to facilitate technology transfer and open sharing of vaccine science, technology, and know-how;
WHO and UN agencies take the lead in securing and providing the necessary technical support to ensure a quick and safe rollout of vaccine programmes;
Vaccine-producing country shift away from their 'me first' policies and stop hoarding Covid-19 vaccines and therapeutics;
Developed country-governments in Asia, specifically Japan, Singapore and South Korea, take political leadership in the region to rally and support a temporary waiver of intellectual property rights for Covid-19 vaccines at the WTO (known as a TRIPS waiver);
Global development bodies and platforms, UN agencies, governments, and pharmaceutical companies work out a distribution plan for vaccines priced at-cost, and support countries in investing in production capacity, procurement, and strengthening of their health systems.
The joint-letter to leaders and health ministers is available here. 
The charter for the People's Vaccine Alliance-Asia is available here.
Ends.
For more information and interviews contact Jenna.Pudelek@actionaid.org or call +447795642990.